Goldman Abandons Kospi Record Call as Won Strengthens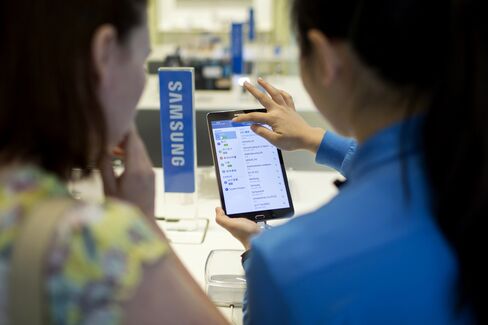 Strategists are abandoning forecasts for a record high in South Korea's Kospi stock index as won gains spur the steepest earnings outlook cuts in Asia.
The average year-end Kospi estimate in a Bloomberg survey of strategists has dropped about 6 percent since December to 2,210. While that still represents a 10 percent gain from yesterday's close, it's below the record 2,228.96 reached in May 2011. Analysts have cut 2014 profit forecasts by 15 percent this year, with Samsung Electronics Co., Korea's biggest company, saying second-quarter results will be "not that good."
Businesses in Korea's $1.3 trillion stock market are getting squeezed as the strongest won in six years and sluggish global growth curb export earnings. Disappointing corporate profits may make it harder for President Park Geun Hye to achieve a goal of boosting expansion in Asia's fourth-largest economy to a four-year high of 3.9 percent in 2014.
"Investors are turning cautious on the market," Kwon Goohoon, the chief Korea economist and strategist at Goldman Sachs Group Inc., which has cut its Kospi forecast to 2,200 from 2,350 in December, said by phone on June 27. "They want to see the numbers before moving forward."
The brokerage reduced its recommendation on the nation's stocks last month for the first time since November 2012, to marketweight from overweight. Nomura Holdings Inc. and Credit Suisse Group AG have both lowered their year-end forecasts for the Kospi by more than 8 percent. The stock index dropped 0.5 percent in the first half, compared with a 4.8 percent advance by the MSCI All-Country World Index.
Exports Miss
The Korean gauge fell 0.2 percent at the close in Seoul as June exports trailed economist estimates. Samsung Electronics slumped 0.9 percent, closing at its lowest level since June 20, after Dongbu Securities Co. cut its second-quarter earnings estimate for the smartphone maker.
The won strengthened 5.2 percent last quarter, the most among 31 currencies tracked by Bloomberg, as the nation's current-account surplus widened and its financial markets lured net inflows of $5.6 billion in the period. The yield on the three-year government bond declined 12 basis points last month to 2.70 percent.
Korean outbound shipments fell 1 percent in May, short of the 3.4 percent gain predicted by economists in a Bloomberg poll. Industrial output shrank 2.1 percent that month, while manufacturers' confidence dropped to a seven-month low in July.
Hidden Value
Data today showed exports rose 2.5 percent in June, versus the 5.1 percent median estimate of economists surveyed by Bloomberg.
Low valuations and an expected overhaul of Samsung Group shareholdings will support equities, according to Midas International Asset Management Ltd. The Kospi trades at about the same level as its companies' net assets, half the multiple of MSCI's global gauge, data compiled by Bloomberg show. Restructuring at Samsung, the country's biggest family-run conglomerate, may unlock "hidden value," according to CLSA Asia-Pacific Markets.
"The market is already so cheap," Heo Pil Seok, chief executive officer at Midas, said by phone on June 26. "We also have the Samsung revamp issue that limits the downside."
Korea's individual investors are pulling money from the local stock market to invest overseas. They have sold a net $176 million of Kospi index shares so far this year and held $13.1 billion of overseas securities at the end of May, the most since October 2010, according to the Korea Securities Depository.
Mobile Unit
The drop in earnings estimates for South Korean companies is the most among 18 countries in Asia, followed by a 12 percent decrease in Vietnam and a 10 percent decline among Thailand firms, data compiled by Bloomberg show.
Samsung Electronics, the world's biggest smartphone maker, is projected to report a 13 percent drop in operating profit in the second quarter from a year earlier, according to analysts polled by Bloomberg. Earnings "will not be that good," Chief Financial Officer Lee Sang Hoon said last week.
The company's income is falling as fiercer competition squeezes margins in its mobile unit, which accounts for two-thirds of the company's earnings.
Hyundai Motor Co., the country's largest carmaker, posted profit that missed analysts' estimates in the first three months of this year as the stronger won eroded income. The company is expected to post a 3 percent drop in operating profit in the second quarter, a Bloomberg survey of analysts shows.
Among the nation's four biggest companies by market value - - Samsung Electronics, Hyundai Motor, SK Hynix Inc. and Kia Motors Corp. -- overseas markets accounted for between 54 percent and 92 percent of revenue in the first quarter.
"Disappointing earnings have been the Achilles' heel for the Korean equity market," said You Seung Min, chief strategist at Samsung Securities Co., which has cut its Kospi year-end target to 2,150 from a 2,300 prediction made in December.
Before it's here, it's on the Bloomberg Terminal.
LEARN MORE