Euro-Area Inflation Steady at 0.5% Shows Draghi Challenge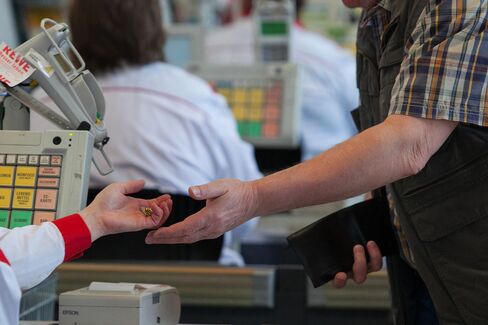 The euro-area inflation rate held steady in June at less than half the European Central Bank's target, underscoring the challenge faced by Mario Draghi as he tries to stoke prices and ignite growth.
Consumer prices grew 0.5 percent in the year, equaling May's increase, the European Union's statistics office in Luxembourg said today. That matched the median forecast in a Bloomberg News survey of 35 economists. Core inflation unexpectedly accelerated.
The data "maintains pressure on the ECB to contemplate even further monetary easing and is somewhat of a surprise after the earlier reported sharp increase in the German HICP reading," said Martin van Vliet, senior euro economist at ING Groep NV in Amsterdam, referring to Germany's 1 percent increase of consumer prices in June. "We would expect ECB President Mario Draghi to maintain a dovish tone at Thursday's press conference, which he may use to unveil details of the TLTROs and to perhaps give an update on the progress of the preparatory work on ABS purchases."
Anemic economic growth and persistently slow inflation prompted the ECB president and his officials to introduce a range of measures earlier this month. The Frankfurt-based central bank cut its benchmark interest rate to a record-low 0.15 percent, took its deposit rate below zero and unveiled targeted loans to help revive lending and growth.
Further Stimulus
The euro-zone economy will expand by 0.3 percent in the second and third quarters, accelerating to 0.4 percent in the final three months of the year, according to a separate Bloomberg survey of economists.
With inflation at less than half the ECB's target of just below 2 percent for a ninth month, Draghi has prepared investors for the prospect of further stimulus should the threat of a negative price spiral remain.
"As long as the inflation rate is considerably below our definition of price stability, there is a risk that expectations for future inflation become unanchored," ECB Executive Board member Yves Mersch said yesterday in an interview with German broadcaster Deutschlandfunk.
None of the economists surveyed by Bloomberg News expects the ECB to change its benchmark interest rate or cut its deposit rate further this month when officials meet on July 3.
Inflection Point
Indications that the 18-nation euro-area's recovery is flagging have been mounting with consumer confidence unexpectedly falling in June and the jobless rate, at 11.7 percent in April, just off the record. Lending to companies and households in the euro area fell for a 25th month in May, ECB data showed earlier.
"We think that we are likely close to the trough in inflation," said Nick Kounis, head of macro research at ABN Amro in Amsterdam. "The exact path depends on energy prices, which have been volatile recently," he said, adding that he sees the trough in July. "Going forward, the uptrend in inflation will be very slow, and will only become clear in 2015."
Energy prices increased 0.1 percent in June after stagnating last month, today's report showed. Prices of alcohol, food and tobacco declined 0.2 percent following a 0.1 percent rise in May. The cost of services rose 1.3 percent after a 1.1 percent jump.
The core inflation rate, which excludes volatile items such as energy, food, alcohol and tobacco, increased 0.8 percent after a 0.7 percent advance in May. That exceeds the median economist estimate of 0.7 percent.
Services Pick-Up
"We have seen a pick-up in services inflation which was very volatile in the last few months due to the late timing of Easter; now there's some normalization," said Marco Valli, an economist at UniCredit SpA in Milan. "This implication for the ECB is close to zero because the number is as expected and the developments are such that this is not going to make any material change to the ECB's inflation assessment."
Today's data are estimates. The statistics office will release final figures for June on July 17.