Abidjan Rebounds as Bank's Return Fuels Optimism After Strife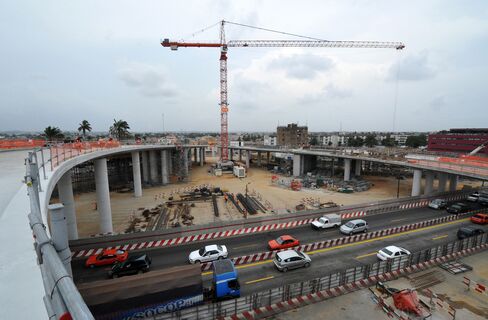 Construction foreman Hilaire Adou doubled his staff to meet a September deadline to build 45 houses in Abidjan, Ivory Coast's commercial capital, for employees of the African Development Bank.
"The pressure comes from all over to finish the works," says Adou, 25, while checking whether the walls of a four-room house are straight. "The people from the African Development Bank arrive soon and we have to fulfill our commitment."
The world's largest cocoa producer is shaking off more than a decade of political instability and violence, paving the way for Carrefour SA to open its first store in the city of about 6 million people and the Tunis-based lender to return to its original headquarters after an 11-year absence. President Alassane Ouattara, 72, has lined up $19 billion in pledges for infrastructure projects and says the economy will expand at an annual rate of more than 10 percent this year and next, almost double the average in sub-Saharan Africa.
Carrefour, France's largest retailer, will open a supermarket next year and Air France-KLM will begin flying the world's largest commercial plane, Airbus Group NV's A380, to Abidjan in October. Casino Guichard-Perrachon SA will partner with Bollore SA to run the e-commerce site Cdiscount in Ivory Coast. The AfDB has started moving more than 1,400 employees and their families from Tunis, Tunisia, where it relocated in 2003 from Abidjan after the start of a civil war.
The bank was founded in 1964 to fund development projects and fight poverty. It has about $60 billion in pledged capital to fund projects from sanitation to health to education in sub-Saharan and North Africa. The AfDB has spent 133 million euros ($181 million) since 2013 to facilitate the return to Abidjan, the bank said in an e-mailed response to questions.
Economic Locomotive
Ouattara, a former deputy managing director of the International Monetary Fund, has convinced investors that he has control of the entire country, Ronak Gopaldas, a country risk analyst for Rand Merchant Bank in Johannesburg, said by phone. Those companies will be watching next year's presidential election to make sure there is not a repeat of 2010 post-voting violence that left at least 3,000 dead and led to bond default, Gopaldas said. Ouattara said he will seek re-election. The United Nations has been reducing its staff, including peacekeepers, from a high of about 12,000 as the situation in the country improves.
"This was the locomotive of West Africa in the 80s," Gopaldas said. "If there is a successful election and we don't see systematic violence then the country is set to take off. For the AfDB to return, it shows you they believe in the direction of the country."
10-Year Struggle
In 2003, the AfDB moved its workers to Tunis, Tunisia, after a failed coup split Ivory Coast into a government-held south and rebel-controlled north. Former President Laurent Gbagbo's refusal to recognize his defeat in a 2010 presidential vote, sparked five months of turmoil. Gbagbo was arrested in April 2011 and sent to The Hague-based International Criminal Court where he is awaiting trial on charges of crimes against humanity. Ouattara was sworn in into office in May 2011.
The inflow of 100 staff members a month looking for housing has fueled price increases for housing, the bank said. The pressure has eased as more units have become available, the bank said in a statement.
The AfDB's arrival "is a symbol of the revival of the Ivorian economy after a decade of recession," the bank said, according to an e-mailed response to questions.
There is concern that the investments in real estate and infrastructure aren't benefiting the poorest residents of Abidjan and that some contracts weren't awarded in a competitive bidding process, Christoph Wille, an Africa analyst at London-based Control Risks Group, said in an e-mailed response to questions.
Broad Recovery
"The return of the AfDB is reflective of the broader economic recovery Ivory Coast has seen since the crisis years," he said. "There is also a perception that some of the investments seen in Abidjan in the past two years have been made in obscure and potentially corrupt ways."
Ivory Coast has worked to improve transparency by reducing the average time in awarding contracts to 88 days from 322, Bruno Kone, spokesman for the government, said by phone yesterday.
"The criticism has often been made," he said. "By locking everyone in a precise time line, we improve the transparency."
The economy contracted 4.7 percent in 2011 and the government defaulted on more than $2 billion of Eurobonds after the electoral crisis. Ivory Coast plans to sell as much as $500 million in Eurobonds before the end of July. The yield on the dollar bond due in December 2032 has dropped 124 basis points, or 1.24 percentage points, to 6.25 percent.
Investors have responded to Ouattara's steps to improve security and the AfDB's return will convince other major companies to relocate, Souleymane Ouattara, an Abidjan-based economist said in an interview.
Unified Country
"A dynamic is unfolding and the return of the AfDB is contributing a lot to this," he said. "The country is reunified and the security situation has improved."
The government spent 33 billion CFA francs to renovate a building in the business district of Plateau that the bank will use as offices and about 9 billion francs to restore the Jean Mermoz International High School, which was shut in 2004 during anti-French riots. The American high school, which housed United Nations peacekeepers in 2011, has reopened.
"Ivory Coast is making great sacrifices for the return of the AfDB," Lancine Diaby, general-director of planning for the government said in an interview in Abidjan. "The return of the African Development Bank to Abidjan means the crisis is totally behind us. This is the return of Ivory Coast on the international stage."