Tobacco Megamerger Gets Nudge From Spanish IPO: Real M&A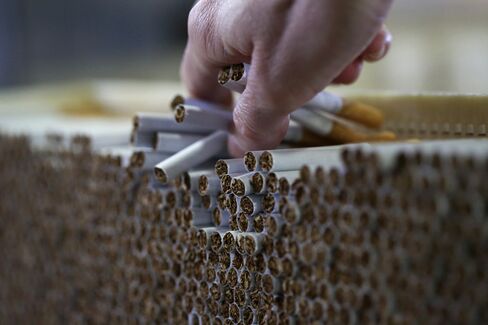 Two American tobacco giants that have been involved in on-and-off merger talks may get some help an ocean away in Spain.
Reynolds American Inc. has explored the purchase of Lorillard Inc. for several months with its efforts so far stymied by various complications, people with knowledge of the matter said last month. Antitrust issues are one potential obstacle -- though a move by Imperial Tobacco Group Plc could help alleviate that.
Imperial is planning to sell 30 percent of its stock in its Madrid unit, Compania de Distribucion Integral Logista Holdings SA, next month to raise about $800 million for the fourth-largest cigarette maker. That may put Bristol, England-based Imperial in a better position to snap up the assets that regulators would probably force Reynolds and Lorillard to offload in order for any deal to go through.
"The Logista IPO may help set the Reynolds-Lorillard deal in motion again," Philip Gorham, an analyst with Morningstar Inc. in Amsterdam, said in a phone interview. "It gives Imperial a bit of leeway to help finance the brand acquisitions 'and give its U.S. business scale.''
Reynolds and Lorillard are the biggest sellers of tobacco in the U.S. after Altria Group Inc., and a combination of the two North Carolina neighbors would put brands such as Reynolds' Camel and Lorillard's Newport cigarettes under one roof. A deal would rank as the biggest-ever tobacco merger, creating a company with more than $13 billion in annual sales, according to data compiled by Bloomberg.
'Formidable Competitor'
''We suspect the aim is to create a company containing the Newport, Camel, Pall Mall, Natural American Spirit and Grizzly brands, which would make a formidable competitor in the U.S.," Citigroup Inc. analyst Adam Spielman wrote in a May 21 note.
The pressure to combine comes amid a need to capture more market share and create synergies as smoking declines worldwide. Global cigarette consumption is poised to drop by 3 percent in the next four years, reflecting a 2.4 percent drop in China and a 4 percent decline in the rest of the world, according to Kenneth Shea, an analyst at Bloomberg Industries.
Speculation that a deal is in the works has sent tobacco shares higher, including a 21 percent gain for $32 billion Reynolds this year and a 21 percent rise for Lorillard, giving it a market value of $22 billion.
BAT Power
It's not just up to Reynolds and Lorillard, though. Reynolds' largest shareholder, British American Tobacco Plc, has been involved in the merger talks, the people with knowledge of the situation said last month, asking not to be identified discussing private information.
BAT, which has a 42 percent stake in Reynolds, is "the power behind the throne," and the $111 billion London-based company would have to agree to finance part of the deal, Gorham at Morningstar said.
Today, BAT rose 0.06 percent to 3,478 pence, while Imperial eased 0.08 percent to 2,630 pence. Lorillard slipped 0.9 percent to $60.97 and Reynolds dropped 0.2 percent to $60.35.
Jane Seccombe, a spokeswoman for Winston Salem, North Carolina-based Reynolds, and Robert Bannon, director of investor relations at Greensboro, North Carolina-based Lorillard, said their companies don't comment on merger speculation. A representative for BAT declined to comment on whether the company supports a Reynolds bid for Lorillard.
Buying Brands
Reynolds will probably have to at least sell its Kool, Winston and Salem brands, which hold about 5 percent of the U.S. market, to appease regulators, according to Wells Fargo & Co. analyst Bonnie Herzog. It's likely to already have been "shopping them to an existing manufacturer with a 2 percent to 4 percent share, creating a third viable player," she wrote in a May 21 report.
That could be Imperial Tobacco, which Citigroup said has a 3 percent share of the U.S. tobacco market. The company acquired Bowling Green, Kentucky-based Commonwealth Brands in 2007, and currently sells the USA Gold, Sonoma and Fortuna brands in about 20 states.
It could cost Imperial between $5 billion and $7 billion to pick up those brands, estimates Erik Bloomquist, an analyst at Berenberg Bank in London. Even though "it would be a stretch to finance it, it would be a deal worth doing for them," he said in a phone interview.
American Imperial
While a representative for Imperial declined to comment on the speculation and Imperial's potential role, he said the company has identified the U.S. as one of its growth markets. Earlier this month, Imperial Chief Executive Officer Alison Cooper told analysts and investors at a Deutsche Bank AG conference in Paris that the $43 billion company was building "positive momentum" in that market.
"I've been very clear on my focus on the U.S. in the last few years," she said. "Clearly there are options around that business."
Imperial is planning to sell as much as 30 percent of its stake in Logista, a distributor of goods to gas stations and other outlets across Europe that it acquired as part of its 2008 takeover of Altadis SA. The proceeds of about $800 million, based on the mid-point of the IPO price range, will be used to pay debt or reinvest in its business.
Imperial is better placed to buy any Reynolds-Lorillard brands that may become available than most of its peers, including Japan Tobacco Inc., which has also been named as a potential buyer, said Chris Wickham, a tobacco analyst at Oriel Securities in London.
Which Brands
"For Imperial it really is a question if it can enhance the profitability of the Commonwealth brands and get some synergies" out of a deal, he said in a phone interview. "The reality is that Imperial is in a better position to extract synergies than someone like Japan Tobacco because it already has a business there."
A spokeswoman from Japan Tobacco International declined to comment when asked if the company had any interest in acquiring assets.
While it may make sense for Imperial to buy brands that might be sold after a Reynolds-Lorillard merger, it could depend on which brands end up for sale and the company's finances.
It's also unclear if a tobacco megadeal will even happen. Wells Fargo's Herzog is one of the believers. She sees a 90 percent chance that the merger gets done. Benefits of the combination include creating a stronger No. 2 competitor to Altria, greater pricing power and more resources to drive the growth of electronic cigarettes, Herzog has said.
Financial Stretch
While it could be a financial stretch for Imperial to buy any brands that may shake loose from a Reynolds-Lorillard deal, the chance to increase the company's presence in the U.S. may make a purchase worth the price.
"The Reynolds-Lorillard deal, if it happens, could be fortuitous for Imperial if it results in Imperial picking up those brands," Shea at Bloomberg Industries said in a phone interview. The brands "would provide it with new growth platforms in the U.S."
Before it's here, it's on the Bloomberg Terminal.
LEARN MORE