Ex-P&G CEO McDonald Nominated to Head of Veterans Affairs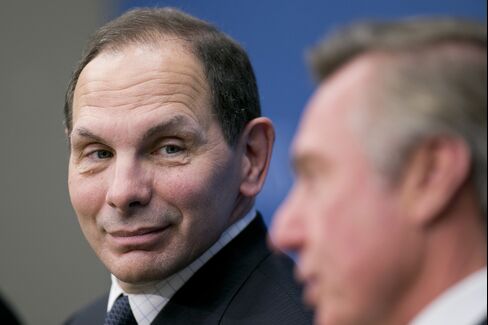 Bob McDonald, the former chief executive officer of Procter & Gamble Co., will be nominated by President Barack Obama to head the troubled Department of Veterans Affairs, a White House official said.
The West Point graduate and U.S. Army veteran who oversaw more than 120,000 employees as P&G's CEO will be announced tomorrow as Obama's choice to lead a department that serves more than 8 million veterans annually, said the official, who asked not to be named in discussing a personnel move.
McDonald, if confirmed by the Senate, would replace Eric Shinseki, who resigned last month amid a scandal over failures of the agency's medical system. Sloan Gibson has served as acting VA secretary since May 30.
"You put a manager in to fix what clearly is a managerial problem," said Matt McCormick, vice president and portfolio manager at Bahl & Gaynor Inc., which holds about 4.2 million P&G shares. "He's far superior to who we had doing this before."
In a report issued by the White House on June 27, the department was portrayed as hobbled by a "corrosive culture." Its medical system has been beset by extended waits for appointments and allegations of falsified records to cover up those delays.
VA officials often ignore directives from its central office and reject criticism, according to a summary of the report by White House Deputy Chief of Staff Rob Nabors.
Boehner Supportive
House Speaker John Boehner, an Ohio Republican, said in a statement that McDonald is "the kind of person who is capable of implementing the kind of dramatic systemic change that is badly needed and long overdue at the VA."
McDonald "dealt with many stakeholders who have differing agendas; that should help him running the VA," said Ali Dibadj, a New York-based analyst at Sanford C. Bernstein & Co.
McDonald, 61, retired from P&G in June 2013 after 33 years at the company. He took over as CEO in July 2009 after serving as chief operating officer.
After losing market share to rivals such as Unilever, McDonald embarked on a turnaround plan in 2012 to cut $10 billion in costs through 2016 and renew focus on the company's leading businesses. During this period, McDonald also faced pressure from activist investor Bill Ackman, who had bought a stake in the consumer products maker and pushed to replace him.
Stock Rise
P&G's stock rose 51 percent while McDonald was CEO.
He rose to lead P&G's Northeast Asia operations in 1999 after stints in the Philippines and Japan. In 2001, McDonald became president of the global fabric and home-care business. Three years later, he was made vice chairman for global operations. He became chief operating officer in 2007.
McDonald was replaced by his predecessor at P&G, A.G. Lafley, who had started working at the company in 1977.
"Following his military service, and a distinguished career spanning three decades at P&G, we congratulate Bob McDonald on his appointment to this critically important position of leading U.S. Veterans Affairs," Lafley said in a statement.
McDonald graduated from West Point in 1975 with an engineering degree and served as a captain in the Army for five years before joining P&G in 1980.
Before it's here, it's on the Bloomberg Terminal.
LEARN MORE