Kuroda Optimism Questioned as Price Outlook Drops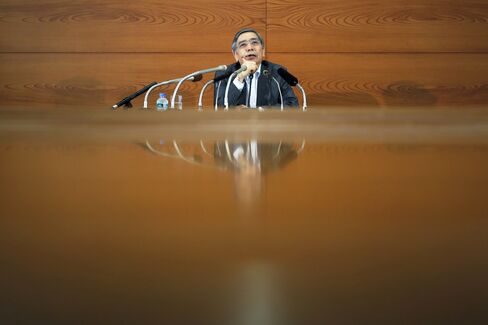 June 30 (Bloomberg) -- Bank of Japan Governor Haruhiko Kuroda says inflation will get back on track toward his target after a slowdown in the summer. Bond traders are skeptical.
The market for inflation-linked debt shows expectations for annual consumer-price increases of 1.25 percent over 10 years, the lowest outlook since April 1 and compared with the BOJ's goal of 2 percent, according to the so-called break-even rate. The gauge has retreated from as high as 1.39 percent on June 3 as data showed slumping household spending, falling wages and slowing exports. The equivalent U.S. rate was 2.26 percent.
Kuroda said last week he expects the inflation target to be reached around 2015, an outlook he conceded is "fairly bullish" compared with the view of economists and markets. While consumer prices rose the most in 32 years in May, spending slumped 8 percent as a sales-tax increase discouraged shoppers, threatening the ability of companies to pass on higher costs.
"I doubt inflation expectations will go up and I'm skeptical Japan's economy will recover in line with the BOJ's scenario," said Naoki Iizuka, an economist at Citigroup Inc. in Tokyo. "Households are suffering from the sales-tax hike and they are cutting spending as real incomes fall."
Consumer prices excluding fresh food rose 3.4 percent in May from a year earlier, the statistics bureau said on June 27. The BOJ had estimated the April boost in the consumption levy to 8 percent from 5 percent would add 2 percentage points to the core inflation rate in May.
Unprecedented Policy
Kuroda's board began an unprecedented stimulus program in April 2013 to overcome deflation that's wiped out much of Japan's growth over the past 15 years. The central bank has been buying about 7 trillion yen ($69 billion) of sovereign bonds a month to support the world's third-largest economy.
Prime Minister Shinzo Abe said last week his stimulus program comprising monetary policy, fiscal spending and a growth strategy has paid off. "We have reached a stage where there is no deflation," he said in an interview.
Kuroda said the core inflation rate will slow to around 1 percent through summer before likely re-accelerating to reach the 2 percent target "in or around" the fiscal year starting in April. Demand will pick up and rising inflation expectations may boost wages, he said in a June 23 speech.
Not all analysts buy that scenario.
Worker salaries have failed to keep up with inflation, constraining household budgets. Wages excluding overtime and bonuses fell for a 23rd month in April. Gasoline prices reached the highest since September 2008, the trade ministry said.
Stronger Yen
The yen has gained 3.9 percent against the dollar this year after an 18 percent plunge in 2013, reducing pressure on import prices to rise. It traded at 101.38 as of 3:50 p.m. in Tokyo.
"We really don't know if inflation will pick up later this year as the BOJ expects," said Chotaro Morita, the chief rates strategist in Tokyo at SMBC Nikko Securities Inc., a unit of Japan's No. 2 bank by market value. "More clear, encouraging signs like a big boost in stock prices will be needed for inflation expectations to rise and prices to keep going up."
The Topix index of Japanese shares has lost 3 percent this year, after a 51 percent surge in 2013.
Japan's exporters are feeling the pain from weak U.S. and Asia demand, with shipments abroad dropping for the first time in 15 months in May, Ministry of Finance data show.
Falling Yields
Benchmark 10-year bonds have so far shown few signs of a sustained inflation pickup. The note's yield has decreased 17 basis points, or 0.17 percentage point, this year to 0.565 percent, the lowest level in the world.
Core consumer price increases are expected to fall short of the BOJ's goal in fiscal 2015, climbing 1.1 percent when the impact of the sales tax is excluded, according to economists surveyed by Japan Center for Economic Research this month.
A declining inflation outlook in the market may put the BOJ in a difficult spot because it had cited rising price expectations as a sign in the past that its policy was working, according to Takafumi Yamawaki, the Tokyo-based chief rates strategist at JPMorgan Chase & Co.
Fifty-eight percent of economists surveyed this month see the BOJ easing more this year, dropping from 75 percent in May, according to Bloomberg News polls.
"There is nothing in the horizon to change inflation expectations dramatically unless the yen weakens substantially," Yamawaki said.
To contact the reporter on this story: Toru Fujioka in Tokyo at tfujioka1@bloomberg.net
To contact the editors responsible for this story: Paul Panckhurst at ppanckhurst@bloomberg.net; Sandy Hendry at shendry@bloomberg.net Ken McCallum, James Mayger