Accused Benghazi Attack Ringleader Pleads Not Guilty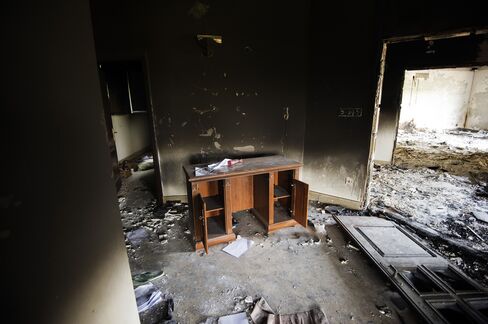 Ahmed Abu Khatallah, the man accused of leading the deadly 2012 attack on U.S. facilities in Benghazi, Libya, pleaded not guilty in a federal court in Washington after he had been brought into city from a Navy ship earlier in the day.
As armed marshals patrolled outside, Khatallah appeared under tight security in the courtroom where his lawyer, Michelle Peterson, entered the plea on his behalf. The defendant wore black sweatpants and a black hooded sweatshirt, addressing the court with the aid of a translator when asked his name. The proceeding, occurring a few blocks away from the U.S. Capitol, lasted 15 minutes.
Killed in the Sept. 11, 2012, attack in Libya were U.S. Ambassador Christopher Stevens, Sean Smith, a State Department security official, and two Central Intelligence Agency contractors, Tyrone Woods and Glen Doherty.
"Now that Ahmed Abu Khatallah has arrived in the United States, he will face the full weight of our justice system," Attorney General Eric Holder said in a statement. "We will prove, beyond a reasonable doubt, the defendant's alleged role in the attack that killed four brave Americans in Benghazi."
Khatallah was captured in Libya on June 15 by U.S. military forces, according to U.S. officials. President Barack Obama ruled out sending him to the Guantanamo Bay prison in Cuba, reopening a debate with congressional Republicans over what to do with militants captured overseas.
Secret Charge
The suspect was charged in secret last year in a criminal complaint that was unsealed this month. The Justice Department today said it obtained an indictment June 26 on the charge of conspiracy to provide material support and resources to terrorists resulting in death.
Khatallah, who was held in a U.S. Navy vessel offshore after his capture, will have a detention hearing July 2. The State Department named Khatallah a "specially designated global terrorist" in January. He was placed on a sanctions list to block his assets and prohibit U.S. persons from dealing with him.
The Justice Department has described Khatallah as a senior leader of Ansar al-Shari'a in Benghazi, a group "involved in terrorist attacks" and the assault on the U.S. Special Mission and Annex in Benghazi.
Holder has said the U.S. is continuing to look for co-conspirators.
Multiple Investigations
The Benghazi attack has triggered multiple investigations in the Republican-led U.S. House regarding security preparations the government had made in Libya and the Obama administration's response to the violence that claimed the four lives. The questions looms as campaign issues for Hillary Clinton, who was secretary of state at the time of the attack, if she decided to seek the presidency in 2016.
Those pushing for Khatallah to be sent to Guantanamo Bay included Senator Lindsey Graham, a South Carolina Republican and vocal critic of the administration's foreign policy and its handling of the Benghazi attack.
Obama took office promising to close the Guantanamo Bay prison, which was set up by then-President George W. Bush following the Sept. 11, 2001, attacks on the U.S. to hold detainees captured in the war on terrorism.
There are about 150 suspected terrorists at the prison, and Congress has put restrictions on the administration's ability to release or transfer them to other countries.
The Republican-led House started investigating the Benghazi incident less than a month after it occurred, spotlighting the administration's initial claim that it stemmed from "spontaneously inspired" demonstrations over an anti-Islamist video.
Officials later backed off that claim, and said that attackers linked to terrorist groups stormed the diplomatic compound and set fire to it.
The case is U.S. v. Khatallah, 14-cr-00141, U.S. District Court, District of Columbia (Washington).