Benghazi Attack Suspect in U.S. Law Enforcement Custody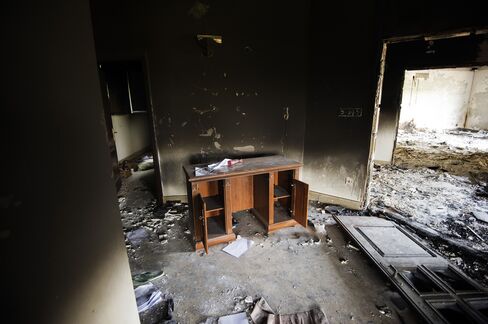 The alleged leader of the 2012 attack on a U.S. diplomatic outpost in Benghazi, Libya, that killed four Americans is in federal law enforcement custody in Washington, officials said.
Ahmed Abu Khatallah, also known as Ahmed Mukatalah, is to appear at 3:30 p.m. today in a Washington federal court, said William Miller, a spokesman for the U.S. attorney's office for the District of Columbia.
Khatallah had been held offshore on a Navy warship following his capture by U.S. special-operations forces earlier this month. He arrived earlier today in Washington, Miller said. He declined to comment further.
Charges against Khatallah were unsealed on June 17, almost a year after being filed in secret. He faces three counts related to the Sept. 11, 2012, attack, including providing support for terrorists and conspiracy, the U.S. government said in the complaint.
Khatallah was captured in Libya on June 15. The attack resulted in the deaths of U.S. Ambassador Christopher Stevens, Sean Smith, a State Department security official, and two Central Intelligence Agency contractors, Tyrone Woods and Glenn Doherty.
The attack has triggered multiple investigations by the Republican-led U.S. House regarding security preparations in Benghazi as Stevens was stopping there and the Obama administration's response to the events. They have emerged as campaign issues for Hillary Clinton, who was secretary of state at the time, if she runs for president in 2016.
Guantanamo Debate
The Obama administration ruled out sending the suspect to the U.S. prison in Guantanamo Bay, Cuba, as it decided to prosecute Khatallah in the federal judiciary system, a move that
reopened the debate with congressional Republicans on what to do with militants captured overseas.
"Some have suggested that he should go" to the detention center at the southeastern end of Cuba, National Security Council spokesman Caitlin Hayden said in a statement on June 17. "Let me rule that out from the start."
Those pushing for Khatallah to be sent to Guantanamo Bay included Senator Lindsey Graham, a South Carolina Republican and vocal critic of the administration's foreign policy and its handling of the Benghazi attack.
"It would be the biggest mistake for the ages to read this guy his Miranda rights," Graham said, referring to the right for those arrested in U.S. criminal cases to remain silent and be counseled by a lawyer.
Obama's Pledge
Obama took office promising to close the Guantanamo Bay prison, which was set up by then-President George W. Bush following the Sept. 11, 2001, attacks on the U.S. to hold detainees captured in the war on terrorism. There currently about 150 suspected terrorists at the prison, and Congress has put restrictions on the administration's ability to release or transfer them to other countries.
"We have not added a single person to the GTMO population since President Obama took office, and we have had substantial success delivering swift justice to terrorists through our federal court system," Hayden said, using the government's shorthand for the Guantanamo Bay facility.
The Republican-led House started investigating the Benghazi incident less than a month after it occurred, spotlighting the administration's initial claim that it stemmed from "spontaneously inspired" demonstrations over an anti-Islamist video. Officials later backed off that claim, and said that attackers linked to terrorist groups stormed the diplomatic compound and set fire to it.
The case is U.S. v. Khatallah, 13-mj-572, U.S. District Court, District of Columbia (Washington).