World Cup Nears 5 Million Digital Viewers in the U.S.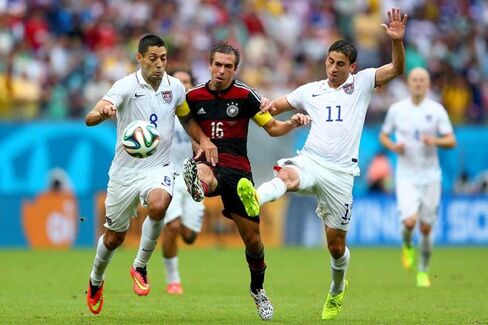 The World Cup match between the U.S. and Germany served as a major test for live-event streaming video, swamping the infrastructure behind ESPN's and Univision's online services, like a heat wave challenging the electrical grid. Games involving the Americans had already been drawing record TV audiences, and the decisive match of the tournament's group stage kicked off at midday on the East Coast—assuring that millions of fans who couldn't make their way to a bar opted for streaming video from inside the office.
ESPN reported 1.7 million concurrent online viewers at Thursday's peak, a record for its WatchESPN service. Some fans could be found complaining on Twitter about being unable to access the live video. "There were minor issues at the start of the match," ESPN said in a statement. "The Internet has rarely been tested like this for a sporting event."
Univision's Deportes app served a record 750,000 concurrent streams for the match—maybe next time ESPN is overloaded, try Univision? Taken together, that's an audience of almost 2.5 million simultaneous streams testing a relatively new way of watching live TV.
Across the match, ESPN had 3.2 million unique viewers—also a record—while Univision had 1.7 million in yet another record. That's almost 5 million combined, a total that would be respectable as a TV audience for most non-U.S., non-Mexico World Cup matches.
During the first two weeks of the World Cup, ESPN has seen more than double the online traffic compared with the same period four years earlier. Through the first 48 matches, including yesterday, the network had an average of 737,000 and 31.1 million total minutes viewed per match, increases of 149 percent and 143 percent over 2010. Univision reports a total of 6.4 million unique viewers through the first 36 matches.
That streaming traffic is only one tributary in the enormous globe-spanning river of the World Cup's digital demand. According to Brazilian telecommunications provider Oi, the total local traffic surpassed 32 terabytes after 10 days—or, as reported by Gigaom, the "equivalent of 171 Super Bowls per day." That number, which counts only the traffic from FIFA officials, the 32 teams, and 20,000 journalists working from media centers, already exceeds the entire 2010 World Cup and is quickly approaching the 34 terabytes consumed during the recent Winter Olympics in Sochi, Russia.
And of course, as the photos, e-mails, texts, and tweets join the terabytes of data on FIFA's network and spreads from Brazil to the rest of the world, it amplifies into some unknowable, massive number.
(Updated at 2:30pm with unique viewer numbers for yesterday and newer cumulative World Cup numbers for ESPN.)
Before it's here, it's on the Bloomberg Terminal.
LEARN MORE