Venezuela Restores Power to Most of Nation Stuck by Blackout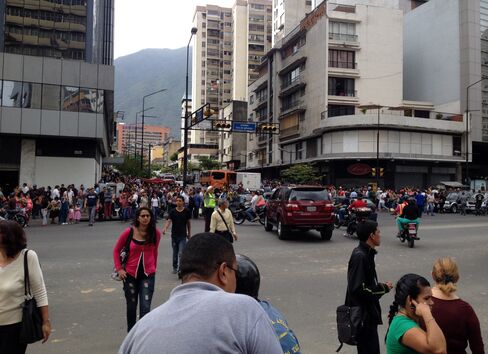 Power was restored to most of Venezuela last night, hours after a blackout left more than half the country without electricity and interrupted a nationwide television broadcast by President Nicolas Maduro.
Electricity was back on in 99 percent of Caracas, Maduro said on state television at about 7 p.m. yesterday by which time power had been restored to most of the country, according to Electricity Minister Jesse Chacon. A windstorm knocked down eight electrical towers on two separate transmission lines, which should be back online by next week, he said.
"We're going to fully investigate these strange circumstances to determine the cause of the failure," Maduro said. "It didn't happen because of excessive demand and didn't take place at a peak hour. There was an intense windstorm in the east, like a hurricane."
Maduro likened the outage to a blackout that occurred while he was speaking in December that he blamed on "sabotage."
A failure in a gas-fired plant that supplies electricity to the central, Andean and western parts of the South American nation triggered the blackout, state-run power company Corpoelec SA said on its Twitter account.
At least 13 states, including parts of the capital and the country's second-most populous state of Miranda, were affected, El Nacional reported. Facilities of state-run Petroleos de Venezuela weren't impacted by the power failure, the company said in an e-mailed statement.
Shops, restaurants and bars in Caracas's Chacaito, Chacao, Altamira and Los Palos Grandes neighborhoods closed early, sending employees home.
Drought, Hydro-power
The city's underground train system was also brought to a halt and traffic lights were inoperative, exacerbating traffic jams as residents rushed to make it home before dark in a city that is plagued by crime.
By early evening, subway and commuter train service had been restored in Caracas, Valencia and Maracaibo, the Electricity Ministry said on its Twitter account.
"We expect to inform the nation later this evening or tomorrow about the cause of the power outage that has affected nearly all the states in Venezuela," Chacon said in telephone interview broadcast yesterday by Globovision.
Chacon said the failure took place during maintenance on the La Arenosa transmission line at around 3:05 p.m. local time, affecting three units that generate power, according to state news agency AVN.
Venezuela, already facing shortages of basic goods from toilet paper to cooking oil, announced the start of electricity rationing in western Zulia state last month, as well as water rationing in Caracas to reduce demand on the power grid as drought drains hydroelectric reservoirs and water tanks.
The nation depends on hydroelectric power for more than two-thirds of its needs.
An electricity crisis prompted by El Nino in 2009 contributed to six straight quarters of negative economic growth in Venezuela.
The country, which has the world's largest oil reserves, suspended a nationwide power rationing plan in June 2010 after it increased investment in thermoelectric capacity.