Ruble Bond Two-Month Recovery a Blip as Rally Seen Fading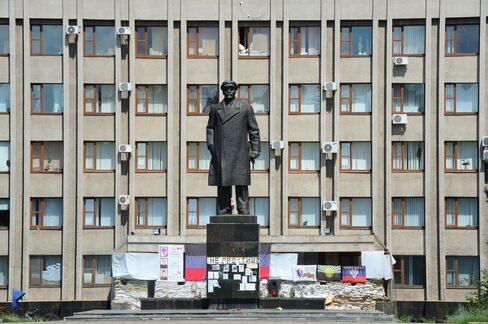 A rebound in Russian bonds that gave investors the best returns in emerging markets since April will fizzle as risks of renewed turmoil in Ukraine linger and the central bank keeps interest rates high.
Ruble debt returned 11 percent in dollar terms during the last two months, two percentage points more than second place Dominican Republic, the Bloomberg Emerging Market Local Sovereign Index shows. While that reduced the first-half loss for Russian bonds to 2.5 percent, it was still the worst among developing nations, the data show.
A fragile cease-fire in Ukraine and the continued threat of tougher economic sanctions from the U.S. and European Union have cooled optimism the crisis is abating, and that Russian assets will continue to rise. The central bank, which raised its benchmark rate 200 basis points since February to shore up the ruble and slow consumer-price growth, said June 16 that inflation will probably miss its 5 percent target this year.
"The rally definitely won't continue, there's no room for further gains," Denis Poryvay, an analyst at ZAO Raiffeisenbank in Moscow, said by phone yesterday. "Inflation is high and it doesn't make sense to cut rates in such an environment. If sanctions are imposed, things will get terrible."
Traders are reducing bets borrowing costs will be eased over the next three months, data compiled by Bloomberg show. The discount on three-month forward-rate agreements has fallen to 30 basis points below the MosPrime rate from 63 basis points on the last trading day before the central bank's rates meeting last week.
'No Space'
Yields on long-maturity bonds are set to climb, widening the gap with shorter-dated notes to as much as 60 basis points by the end of the year, Poryvay said.
The spread between 10-year and two-year bond yields narrowed to 16 basis points, the lowest since 2010, this month and was at 35 basis points yesterday.
Inflation accelerated in May to 7.6 percent, the fastest pace since August 2011. The regulator will continue increasing the key rate if "existing inflation risks materialize," according to its statement.
Flagging Momentum
"Sticky inflation, further sanctions and a hawkish central bank can all limit the upside potential of the bond market," Viktor Szabo, a London-based money manager who helps oversee more than $13 billion in emerging-market debt at Aberdeen Asset Management Plc, said by e-mail. "We are still cautious."
With momentum behind peace efforts flagging, the U.S. is preparing sanctions against Russia on technology aimed at exploiting and producing oil and gas products, a major part of that country's economy, according to three people briefed on the plans. Ukraine isn't optimistic it will clinch a peace deal with separatist rebels soon, Economy Minister Pavlo Sheremeta said yesterday.
At the same time, low global interest rates and a pledge by European Central Bank President Mario Draghi to spur growth with additional stimulus are making the ruble a tempting investment, Tim McCarthy, who helps oversee $7.24 billion as managing director at VTB Capital Investment Management in Geneva, said by e-mail.
"Russian government bonds have the potential to rally in the second half," he said. "We are back in risk-on mode."
Betting on the Russian currency and selling the dollar gave a 4.4 percent carry return this month, the highest among 23 emerging-market currency pairs tracked by Bloomberg.
Stagnating Growth
The ruble strengthened 0.3 percent to 33.6325 against the dollar as of 2:48 p.m. in Moscow, extending its gain this month to 3.8 percent. Russia had its first sellout bond sale in a month this week, placing 10 billion rubles ($297 million) of August 2023 bonds at an auction June 25.
The economy may grow 0.4 percent in 2014, the slowest pace since a contraction in 2009, according to Central Bank Chairman Elvira Nabiullina.
"The Russian economy is weak, inflation is very high, so I expect the ruble to weaken," Dmitry Kosmodemiyanskiy, a money manager who helps oversee about $1 billion at Otkritie Asset Management in Moscow, said by e-mail yesterday. "Do you really think that everything is over in Ukraine?"