Philippine Bonds Decline on Plan to Auction 10-Year Debt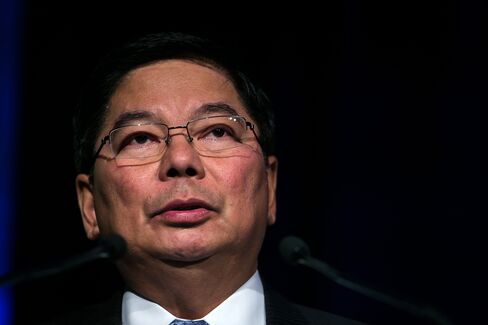 June 27 (Bloomberg) -- Philippine bonds due 2023 fell, halting a two-day gain, after the government announced plans to sell 10-year debt for the first time in a year.
The Bureau of the Treasury will offer 135 billion pesos ($3.1 billion) worth of bills and bonds from July to September, unchanged from the first two quarters, according to a memo to dealers from Treasurer Rosalia de Leon. The government will auction 10-year bonds for the first time since July and will sell its first 20-year debt in 11 months.
The yield on the 3.25 percent bonds due August 2023 rose three basis points, or 0.03 percentage point, to 3.93 percent as of 5 p.m. in Manila, according to Tradition Financial Services. The yield was little changed this week.
"Yields of longer-dated bonds rose after the announcement of new supply," said Bunny Bernardo-Recto, first vice president at CTBC Bank Philippines in Manila. "We expect a steeper yield curve as market players rebalance their portfolios in view of the third-quarter borrowing and the outlook on the policy rate."
Bangko Sentral ng Pilipinas hasn't seen "widespread second-round effects" from recent price increases, Governor Amando Tetangco said in a mobile-phone message yesterday. Still, it's ready to act as needed to prevent inflation expectations from unraveling, he said.
The peso rose 0.3 percent today and 0.1 percent this week to 43.753 per dollar in Manila, according to Tullett Prebon Plc data. One-month implied volatility, a measure of expected moves in the exchange rate used to price options, fell three basis points today and 32 basis points this week to 4.4 percent.
Bond Demand
There is demand, especially for 20-year bonds, de Leon said in a mobile-phone message, citing consultations made with the market. "We expect spending to accelerate," she said, explaining why the Treasury decided to maintain the volume after signaling last week that borrowings may be reduced.
Government spending fell 4 percent in May, dropping for a second month, and "that may affect the domestic economy amid the background of fragile global growth," said Ricky Cebrero, executive vice president at Philippine National Bank in Manila.
Recent increases in some food costs are mostly due to supply disruptions and the government is addressing the bottlenecks that will ease the pressure on prices, Tetangco said. "However, global oil prices have been increasing of late amid the tensions in Iraq. This is a key source of risk to inflation."
The government will report June inflation data on July 4. Consumer prices rose 4.5 percent in May, the fastest pace since November 2011.
To contact the reporter on this story: Clarissa Batino in Manila at cbatino@bloomberg.net
To contact the editors responsible for this story: James Regan at jregan19@bloomberg.net Robin Ganguly