Italy's Top Economists Oppose Renzi Pick for Statistics Chief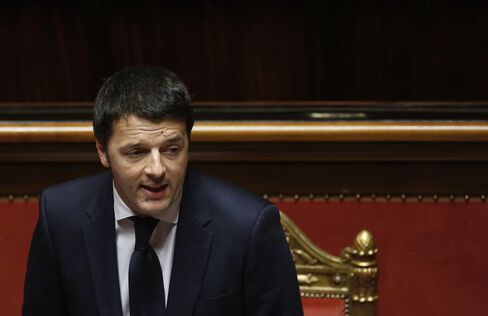 Prime Minister Matteo Renzi's pick for the head of Italy's statistics agency Istat lacks the needed academic credentials, a group of the country's top economists said in a letter to the premier.
Giorgio Alleva's "CV is extremely modest both in absolute terms and in comparison to several other candidates" for the post, academics including London Business School's Lucrezia Reichlin, Bocconi University's Tito Boeri and Luigi Zingales of the University of Chicago's Booth School said in the letter posted on on line news site La Voce under the headline "A Chairman Without Qualities."
"I think it's up to the letter's addressee to reply," Alleva, a professor of statistics at Rome's La Sapienza university, said by phone when contacted by Bloomberg News. "My focus is on the program for Istat."
The euro area's statistics agencies have been at the center of the debate on the region's economic outlook for the past 10 years. In 2004 Greece and its statistics agency came under fire for under-reporting budget deficit figures. In 2009, as Italy entered a recession and former premier Silvio Berlusconi asked the media to stop spreading bad economic news, his Finance Minister Giulio Tremonti openly criticized Istat methods for measuring unemployment.
Rome-based Istat has been without a full-time chief for more than a year and is currently headed by acting chairman Antonio Golini. Enrico Giovannini resigned from the post in March 2013 to become Labor Minister in the government led by Renzi's predecessor Enrico Letta. He had previously worked as head statistician at the Organization for Economic Cooperation and Development.
Italy's current Finance Minister Pier Carlo Padoan also worked as chief economist at Paris-based OECD before joining Renzi's government in February. The month before his appointment, he'd been nominated by Letta's government as Istat head.
Earlier this month Senate lawmakers approved Alleva's appointment. The opposition Five Star Movement voted against Alleva saying he lacked the needed requirements to lead Istat. The nomination now needs to be confirmed by a committee of the Chamber of Deputies.