U.S. Stocks Drop as Bullard Says Rates to Rise by March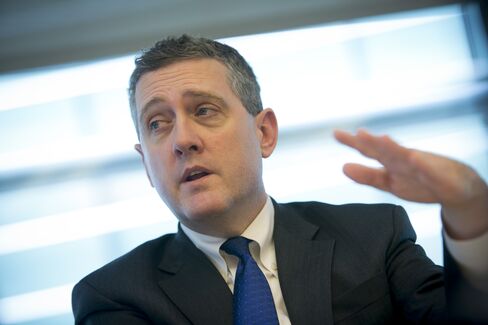 U.S. stocks slipped for the third time in four days after James Bullard, president of the Federal Reserve Bank of St. Louis, suggested today that higher interest rates may happen sooner than people thought.
The Standard & Poor's 500 Index lost 2.31 points, or 0.1 percent, to 1,957.22 at 4 p.m. in New York, paring an earlier drop of as much as 0.8 percent. The Dow Jones Industrial Average fell 21.38 points, or 0.1 percent, to 16,846.13.
Bullard, speaking in an interview on Fox Business Network, predicted the central bank's first interest-rate rise will happen in the first quarter of next year. Most investors are forecasting higher rates later in the year, according to Ryan Larson of RBC Global Asset Management (U.S.) Inc.
"Bullard's comments are somewhat contradictory to what Chair Yellen indicated last week," Larson said in a phone interview. "Contradictory language coming from Fed officials is putting pressure on the market."
Stocks rallied earlier in the month after Fed Chair Janet Yellen said accommodative monetary policy, rising property and equity prices and the improving global economy should lead to above-trend growth. Yellen emphasized the need to put more Americans back to work and downplayed concerns about asset-price bubbles and incipient inflation.
About 5.1 billion shares changed hands in the U.S. today, 15 percent less than the three-month average.
Trading Slows
About 980 million shares changed hands today in the two hours after the start of the U.S. versus Germany soccer match at noon New York time, 21 percent less than the average for the rest of the year before the World Cup started on June 12, data compiled by Bloomberg show.
Trading is likely to get a boost tomorrow, when Russell Investments concludes the annual revisions to its equity benchmark gauges. Russell's U.S. stock indexes, including the Russell 1000 Index and the Russell 2000 Index, are used as benchmarks for $5.2 trillion in assets, according to the company's website. In the previous two years, the reconstitution day ranked in the top two busiest trading sessions, data compiled by Bloomberg show.
Economic data showing that consumer spending rose less than forecast also led to losses in stocks. Bed Bath & Beyond Inc. tumbled after forecasting profit below analysts' estimates amid competition from online retailers.
Multitude of Factors
"There's a multitude of factors driving the market lower," Joe Bell, senior equity analyst at Cincinnati-based Schaeffer's Investment Research Inc., said in a phone interview. "You're seeing the Fed comments from Bullard come out, a market that's been on a low-volatility uptrend and uncertainty from a geopolitical standpoint over in Iraq. It's a perfect storm for different parties to take some money off the table."
The U.S. jobless rate may fall below 6 percent and inflation rise near 2 percent by the end of this year, Bullard said, and markets may not be fully appreciating how close the Fed is to reaching it goals. Bullard, who is not a voting member of the policy-setting Federal Open Market Committee this year, won't vote again until 2016.
Stocks tumbled after the market opened, then trimmed declines in the afternoon.
"Janet Yellen is probably the most dovish member of the FOMC and given that she's in charge and Bullard is not a voting member this year, his perspective may not be able to sway her opinion, if the two disagree come next spring," Randy Frederick, Austin, Texas-based managing director of trading and derivatives at Charles Schwab Corp., said in an email.
Economic Data
Consumer spending, which accounts for about 70 percent of the economy, climbed 0.2 percent in May after being little changed in April, Commerce Department figures showed. The median forecast of 76 economists in a Bloomberg survey called for a 0.4 percent rise.
The S&P 500 rose 0.5 percent yesterday as investors shrugged off data showing U.S. gross domestic product shrank 2.9 percent in the first quarter, the worst reading since 2009. The gauge is up about 1.8 percent in June, poised for its fifth straight monthly increase, and has risen 4.5 percent for the quarter.
For a 49th straight day, the S&P 500 failed to post a gain or loss exceeding 1 percent, the longest stretch since 1995.
Iraq's oil minister said the nation's crude exports will accelerate next month, adding to signs that violence in the country's north isn't affecting the oil-rich south. Violence in Iraq spurred companies including BP Plc and Exxon Mobil Corp. to evacuate workers from the country.
Market Movers
Bed Bath & Beyond Inc. fell 7.2 percent to $56.70, the biggest loss since Jan. 9. The operator of about 1,500 home-goods and baby-product stores said Wednesday second-quarter profit was less than analyst estimates amid competition from online retailers.
"Strong earnings are always important and what we've been looking for throughout this recovery is that top line revenue growth," Ian Kerrigan, global investment specialist at JP Morgan Private Bank in Seattle, said in a phone interview. "When earnings data isn't consistently strong, people get cautious and it adds some volatility."
Philip Morris
Philip Morris International Inc. slid 2.7 percent to $86.49, the most since February, after cutting its earnings forecast amid unfavorable currency shifts. The world's largest publicly traded tobacco company also announced the purchase of Nicocigs Ltd., a U.K-based cigarette maker.
"People might be rethinking those companies that are subject to currency headwinds," Dan Veru, chief investment officer at Fort Lee, New Jersey-based Palisade Capital Management, said in an phone interview. Veru helps oversee $5 billion in assets.
Nabors Industries Ltd. jumped 6.2 percent to $29 after C&J Energy Services Inc. agreed to acquire the oil drilling company's hydraulic fracturing business for $2.86 billion in cash and stock.
Iron Mountain Inc. surged 20 percent, the most since it went public in 1996, to $35.74, after its board approved the company's conversion to a real estate investment trust.
Alcoa Inc. gained 2.7 percent to $14.94, the highest since 2011, as the largest U.S. aluminum producer agreed to buy U.K. aerospace-components maker Firth Rixson Ltd. for about $2.5 billion in stock and cash.
GoPro Inc., whose cameras let surfers, skiers and sky divers record their exploits, gained 31 percent to $31.34 following its initial public offering. The company raised $427 million yesterday, selling 17.8 million shares for $24 each, the high end of the marketed range.
Before it's here, it's on the Bloomberg Terminal.
LEARN MORE