Italian Debt Swells to Rival Germany as Bond Yields Slide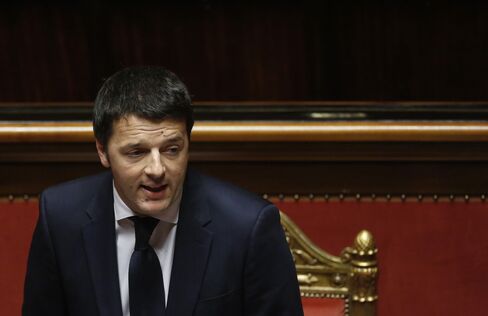 As Italy's borrowing costs fall to new lows, its debt is rising to the most ever.
The country owed 5 percent more in April compared with a year earlier, with debt reaching 2.15 trillion euros ($2.9 trillion), Bank of Italy figures show. That matches the outstanding borrowing of Germany, the largest economy in Europe and the most of any country on the continent, at the end of last year, according statistics office Eurostat.
While Germany is scheduled to grow 2 percent this year, Italy will expand 0.3 percent in 2014, according to a Bloomberg survey. To ensure its debt is sustainable, Prime Minister Matteo Renzi is under pressure to push through spending cuts and foster growth in an economy burdened by the threat of deflation and the highest jobless rate on record.
"In our forecasts Italian debt will overtake Germany by the end of the year," said Raffaella Tenconi, an economist at Bank of America Merrill Lynch in London. "It is particularly important that the government moves ahead with the promised reforms to firm the sovereign credit rating and strengthen further investors' appetite for Italian assets."
In the meantime, the repayment of arrears to state suppliers, the contributions to the euro-area rescue funds, lower tax revenue due to the effects of the record-long economic slump and financial servicing costs keep adding to Italy's debt load.
ECB Backstopping
With the European Central Bank backstopping the euro over the past two years, the yield on 10-year Italian bonds meanwhile fell to as low as 2.69 percent this month, narrowing the premium over equivalent German bunds to the least in three years.
Italian borrowing costs fell to record lows earlier this week at sales of April 2016 zero-coupon notes and six-month bills as the prospect of continued accommodative monetary policy from the ECB rebooted a rally in euro-region bonds. Yields on five- and ten-year bonds also declined to the least on record at today's sale of almost 8 billion euros of debt maturing between 2019 and 2024.
Italy's 10-year yield was up 2 basis points at 2.87 percent after the auction.
Pace Accelerated
In the first four months of this year, Italy's debt rose by 77 billion euros, almost as much as the total 79.8 billion euros it grew in 2013, according to the the country's central bank.
The ECB on June 5 unveiled an unprecedented round of measures to help its record-low interest rates feed through to the economy. They included cutting its deposit rate to minus 0.1 percent, which made the ECB the first major central bank to take one of its main rates negative.
ECB actions will boost Italy GDP in coming years, Bank of Italy Deputy Director General Fabio Panetta said.
"Based only on the effects recorded so far on currency exchange and market rates, we can estimate a cumulative stimulus to output in the three years 2014 to 2016 of about half a percentage point," Panetta said at a June 19 event in Rome.
Renzi's government is seeking a return to growth after a recession that lasted more than two years. The Italian economy, the euro region's third-biggest, contracted 0.1 percent in the first quarter before industrial production resumed increasing in April, national statistics agency Istat said on June 10.
Rebooted Rally
The weak growth prospects were cited by Standard & Poor's when it kept a negative outlook in its June 6 review of Italy's credit rating. S&P said the ECB "helped reduce financing tensions for many euro zone members, including Italy."
This year, Italy foresees increasing its debt ratio to 134.9 percent of gross domestic product from 132.6 percent in 2013, relying on the sale of stakes in the nation's postal office and air traffic controller to prevent a further increase, according to the government's economic and financial plan passed in April. Debt is projected to fall to 125.1 percent of GDP by 2017.
The government is counting on growth of 0.8 percent this year to help meet its budget goals. That forecast contrasts with business lobby Confindustria, which cut its estimates for GDP in 2014 to 0.2 percent from an increase of 0.7 percent previously.
Italy's "fiscal policy needs to strike a delicate balance between setting the debt ratio on a downward path while avoiding excessive tightening that derails the fragile recovery," the International Monetary Fund said in a report this month. "More needs to be done to bring down the high level of public debt and strengthen the resilience of public finances."
The IMF also said in the June 17 report the government's "privatization efforts should be completed quickly."
Finance Minister Pier Carlo Padoan said last week that he shared the IMF's call to cut the debt-to-GDP ratio and that the government's privatization plan is "ambitious."
Before it's here, it's on the Bloomberg Terminal.
LEARN MORE