Germany's New Coal Plants Push Power Glut to 4-Year High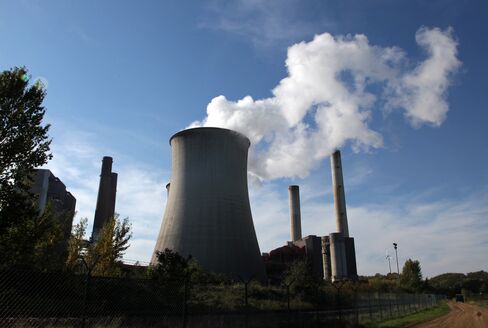 Germany is headed for its biggest electricity glut since 2011 as new coal-fired plants start and generation of wind and solar energy increases, weighing on power prices that have already dropped for three years.
Utilities from RWE AG to EON SE are poised to bring units online from December that can supply 8.2 million homes, 20 percent of the nation's total, according to data compiled by Bloomberg. That will increase spare capacity in Europe's biggest power market to 17 percent of peak demand, say the four companies that operate the nation's high-voltage grids. The benchmark German electricity contract has slumped 36 percent since the end of 2010.
The new coal plants are starting as Germany aims to almost double renewable-power generation over the next decade. Wind and solar output has priority grid access by law and floods the market on sunny and breezy days, curbing running hours for nuclear, coal and gas plants, and pushing power prices lower. The profit margin for eight utilities in Germany narrowed to 5.4 percent last year from 15 percent a decade ago.
"The new plants will run at current prices, but they won't cover their costs," Ricardo Klimaschka, a power trader at Energieunion GmbH who has bought and sold electricity for 14 years, said June 25 by e-mail from Schwerin, Germany. "The utilities will make much less money than originally thought with their new units because they counted on higher power prices."
Nine-Year Low
German power for delivery next year, a European benchmark, slumped to a nine-year low of 33.65 euros ($45.82) a megawatt-hour on April 3 on the European Energy Exchange AG in Leipzig, Germany, and settled at 34.45 euros today. The contract fell 5.6 percent this year, more than respective drops of 1.8 percent and 4.4 percent for the equivalent French and Nordic prices. German next-year electricity may reach 33.45 euros, according to Arendal, Norway-based energy-analysis firm Markedskraft ASA.
Lower prices "leave a trail of blood in our balance sheet," Bernhard Guenther, chief financial officer at RWE, Germany's biggest power producer, said May 14 on a conference call after the company lowered its goal for annual net income.
German spare capacity was 21 percent in 2011 before eight nuclear reactors were shut following the Fukushima disaster in Japan, power-grid operator data show. The government wants renewable power to supply as much as 45 percent of the nation's energy by 2025, compared with about 27 percent in this year's first quarter.
Lignite Plants
Wind and solar's share of installed German power capacity will rise to 42 percent by next year from 30 percent in 2010, according to European Union data compiled by Citigroup Inc. The share of hard coal and lignite plant capacity will drop to 28 percent from 32 percent, the data show.
German utilities plan to start new hard-coal plants with 5,606 megawatts of capacity this year and next, data from Bonn-based national grid regulator Bundesnetzagentur show. That compares with a target of at least 10,000 megawatts from new solar and wind installations in 2014 and 2015 under Germany's renewable energy act, which takes effect Aug. 1. Solar output reached a record 24,244 megawatts on June 6, according to EEX.
"We have a huge oversupply of power and Germany wants to switch to renewable energy," Claudia Kemfert, who heads the energy unit at the DIW economic institute, a research group in Berlin, said in an e-mail on June 20. "That's why investments in new coal plants are bad investments."
46% Decline
The year-ahead clean-dark spread, a measure of profit from burning coal to produce power in Germany, plunged to 5.10 euros a megawatt-hour on May 13, down 46 percent from the nine-month high of 9.48 euros on Oct. 7, data compiled by Bloomberg show. The measure traded at 5.87 euros today.
Coal-generation margins are poised to turn negative in 2016, Vincent Gilles, London-based head of utilities research at Credit Suisse Group AG, said in a report on May 8.
Utilization of German hard coal plants fell by a fifth over the past seven years, according to data from Louisville, Kentucky-based Genscape Inc., which tracks power output in 13 European countries.
EnBW Energie Baden-Wuerttemberg AG said this week that it wrote down the value of its power plants by 1.2 billion euros. Low prices will cut into earnings from generation, particularly for coal-fired units, the Karlsruhe, Germany-based company said.
Offices Shut
Power prices slump or even turn negative when wind and solar energy flowing into Germany's grid exceeds demand, especially on weekends, when factories and offices are closed. The average weekday spot power price over the past 12 months was 39 euros a megawatt-hour, compared with 21.10 euros on Sundays, according to Deutsche Bank AG.
The "Sunday discount" is costing generators as much as 26 percent of group earnings, Martin Brough, a London-based analyst at the bank, said June 10 in a report. RWE's income may be reduced by 164 million euros, or 16 percent of earnings per share, in 2015, while the impact on per-share profit might come to 5 percent for EON and 26 percent for Austria's Verbund AG, according to Brough.
Still, Vattenfall AB's 757-megawatt Moorburg-B unit, planned to start in December, will at least cover its costs, according to Alfred Hoffmann, vice president of portfolio management at the company's energy-trading unit in Hamburg.
"We are generating a positive margin with our coal plants and cover our variable and operational costs, such as coal purchases or personnel expenses," Hoffmann, who has traded energy since 1998, said by telephone on June 24.
Power plants in Germany and neighboring countries with as much as 40,000 megawatts of capacity would have to close for German electricity prices to rebound, according to Gilles at Credit Suisse. That's "unlikely," he said, adding that power prices in the nation are likely to stay near 35 euros a megawatt-hour until 2020.
"The boom of coal plants is over for now," Vattenfall's Hoffmann said. "And the situation won't improve before the next decade, when old coal plants and nuclear reactors go offline."
Before it's here, it's on the Bloomberg Terminal.
LEARN MORE