Dead Friend in River: Inside Ukraine's Refugee Crisis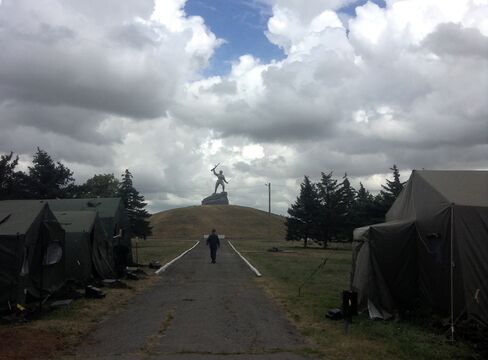 When Volodymyr Vesyolkin's friend turned up dead in a river days after brazenly unfurling a Ukrainian flag in their separatist-controlled town, he knew it was time to go.
Vesyolkin left his home and business in Horlivka, a city of 260,000 in the Donetsk region that's been ravaged as government troops battle pro-Russian insurgents. Seeking to start a new life, he salvaged as much of his bakery as he could, loading metal ovens into his truck and navigating military checkpoints on the 15-hour drive to Kiev. Now safe in the capital with his wife and three children, life starts anew.
"I understood this wouldn't end in a month," Vesyolkin, 35, said in a June 19 interview in a central Kiev restaurant. "Here, I've gone back to delivering the bread to shops myself."
More than 400 people have died in the conflict, according to UN figures, many caught in the crossfire of a struggle for Ukraine's future that erupted in the country's easternmost regions after Russia's takeover of Crimea in March. Even if far smaller than Syria's refugee crisis, the United Nations estimates that more than 50,000 people are internally displaced and 110,000 arrived in Russia from Ukraine this year, while officials in Kiev warn of a "humanitarian disaster."
Truce Violated
The difficulty for President Petro Poroshenko to create lasting stability has been laid bare by a truce extended by three days as it was set to expire today, with the government saying a peace deal isn't close. The cease-fire was violated daily, including rebels shooting down a government helicopter, killing all nine people on board.
Even during the truce, the number of people internally displaced increased by 16,400 this week to 54,400, the office of the UN High Commissioner for Refugees said on its website today.
"The rise in numbers of the past week coincides with a recent deterioration of the situation in eastern Ukraine," Melissa Fleming, a spokeswoman for the UNHCR, said in the statement. "Displaced people cite worsening law and order, fear of abductions, human rights violations and the disruption of state services."
There are plenty of reasons to steer clear of Ukraine's east. The government has deployed mortars, warplanes and helicopters against insurgents in cities including Slovyansk, while the rebels used anti-aircraft missiles, tanks and field rocket systems.
'Intimidation, Fear'
In Luhansk and Donetsk, armed groups engage in abductions, detentions, torture and killings, according to the UN's June 15 report on human rights in Ukraine. The violence is affecting the broader population in the two regions, which are marked by an "atmosphere of intimidation and consequent fear," it said.
For now, refugees rely on aid from volunteers.
One organization, East-SOS, helps locate places to live, with households willing to take refugees or in separate properties. About 1,500 people from Donetsk and neighboring Luhansk, whose combined population is about 6.5 million, have approached the group since it was created in May.
"Most people who come are families with children or the socially vulnerable, such as pensioners," Yuliya Krasilnikova, East-SOS's press secretary, said by e-mail. "People are leaving because their lives are threatened by the military activity."
'It's War'
Natalia Tolstykh, an English professor at the Donetsk National Technical University, grabbed her son and headed for Kiev.
"I left when I saw trucks with militants on the streets," she said. "I saw the armor and I knew this is a war. We'll try to find a flat and a job. It's hard to say when we'll return."
Camps are also sprouting up on the Russian side. In Alekseevka, 7 kilometers (4 miles) from the border, dozens of tents circle a hill with a monument to Soviet soldiers on top. With room for 500, the base now hosts about 30 people.
Andrei Gubarev, 39, and his wife Naira Vardanyan, 44, said they fled the village of Amvrosievka on the other side of the border after it was shelled two weeks ago. The couple wants to stay in Russia and Andrei, an electric welder, plans to seek a job on an infrastructure project in the country's north, Vardanyan said.
"You can't sleep at night, you can't go out on the street," she said. "Do I want back? No thanks."
Where Next?
Some separatist groups have also helped. Sergei Pluzhnikov, a 26-year-old photographer, left the militant stronghold of Slovyansk in Donetsk with his pregnant wife Anastasia on June 6. Local militants found them accommodation in a house they share with another family 100 kilometers away.
"We lost our jobs and had been eating up what we managed to store, hoping until the last minute the shelling would stop but it didn't," Sergei said. "We're grateful to this family for giving us shelter. We don't know yet where we'll go next."
The breakdown in law and order in the eastern regions, along with the conflict over Crimea is forcing many people to seek safety, said Oldrich Andrysek, the regional representative for the UN High Commissioner for Refugees. The situation is compounded by "many competing priorities" for a government seeking to provide proper response, he said.
"There's no central policy that we can discern: People don't know where to go or which phone number to call," he said June 16 in his office in Kiev. "Local authorities are overwhelmed and don't have registration, central guidance or resources. The absolute majority of assistance is from private hands, ordinary citizens who have very little themselves share home-made smoked meat or bring some washing powder or children's diapers."
Peace Promise
Russia, which denies allegation by Ukraine and its allies that it's stoking the unrest, says the government in Kiev must do more. Authorities in Moscow say almost 19,000 refugees have arrived from Ukraine. Russia is seeking a UN Security Council resolution establishing humanitarian corridors and access for international aid agencies.
The U.S. and its European allies have signaled that they won't support any such Russian move unless the text recognizes Ukraine's territorial integrity
Poroshenko, elected last month on promises to restore peace, has ordered regions not affected by the unrest to accept refugees from Donetsk and Luhansk. The government is putting measures in place to respond to the possible needs of about 680,000 in the Dnipropetrovsk region, according to the Organization for Security and Cooperation in Europe.
Vesyolkin, the baker, hasn't given up hope. He plans to return home one day, joking that his healthy lifestyle will help him outlive the separatists who're older and live more dangerously.
"I know it's going to be dangerous, that there'll still be partisans even after the fighting ends," Vesyolkin said. "But that's alright. Under Yanukovych, I carried my pistol with me everywhere I went for three years."
Before it's here, it's on the Bloomberg Terminal.
LEARN MORE