Concordia Healthcare Is Merger Target After Spurning Bid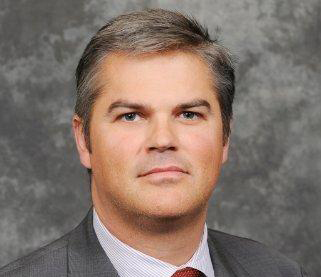 Concordia Healthcare Corp., the best-performing stock on the Toronto Stock Exchange this year, says it's a takeover target for companies seeking lower taxes and has already turned down one offer.
"We are undoubtedly a target," Chief Executive Officer Mark L. Thompson said in an interview yesterday at Bloomberg's Toronto office. "Our structure, it's as good as you're going to get" for drug companies seeking a so-called tax inversion takeover. The Toronto-based company has two units based in Barbados and a blended tax rate in the "single digits," he said.
Concordia, which mimics Valeant Pharmaceuticals International Inc. by growing rapidly through acquisitions, passed on one inversion offer by a U.S. company seeking an offshore address to lower taxes because they "couldn't agree on valuation," Thompson said. Talks ended in April. He declined to name the company.
"The U.S. is the best for us for inversion targets," he said. "That said, I didn't start the company to invert it."
The number of U.S. companies looking to buy other firms for their addresses in lower-taxed jurisdictions has doubled in proportion to all overseas deals, according to data compiled by Goldman Sachs Group Inc. The pharmaceutical industry has gained the most attention for these arrangements, given Pfizer Inc.'s pursuit of AstraZeneca Plc and AbbVie Inc.'s recent bid for Shire Plc.
Foreign Ownership
Today, Auxilium Pharmaceuticals Inc. agreed to buy biotechnology firm QLT Inc. in a $345 million deal to move the company's registration to Canada.
Concordia's status as an inversion target may be forefront in investors' minds because of recent Canadian inversions, including Endo Health Solutions Inc.'s purchase of Paladin Labs and Valeant, which has soared since it announced plans to buy Biovail Corp. in June 2010.
A push in Washington to limit such deals or raise foreign ownership requirements for inversions as early as 2015 has also prompted more firms to look into the switch.
"We have been struck by the significant amount of investor interest focused upon finding the next inversion target," David Dean, a Cormark Securities Inc. analyst, said in a June 3 note starting coverage of the stock with a "buy" rating. "Some are speculating that Concordia could be next."
On Radar
The company is "showing up on a lot of radars" as an inversion target, said Bruce Campbell, a fund manager at StoneCastle Investment Management Inc. He invested in the firm when it began trading in Toronto in December.
"That could happen as early as the next 12 months," Campbell said, adding that Concordia would likely have to make another acquisition the size of irritable bowel syndrome drug Donnatal, its largest to date, to boost its market capitalization from about C$905 million ($845 million) to a range of C$1.5 billion to C$2 billion.
"It would be a function of their size," said Campbell, who holds about 0.3 percent of Concordia's outstanding shares, which have soared fourfold since the start of the year.
Concordia rose 3.2 percent to C$32.75 at 4 p.m.
Thompson, who learned the ropes of the pharmaceutical industry at Biovail before leaving in 2005, said he doesn't think speculation over an inversion is driving the stock's rise. "I think the valuation is driven by Donnatal primarily and then the other legacy products."
Orphan Drugs
Thompson said he's looking to add more, with a half-dozen acquisition negotiations going on at any given time. Concordia plans to fund its next purchase through debt rather than equity, he said.
Concordia buys medicines that are late in their lifecycle or off patent as well as U.S.-designated orphan drugs, which treat rare diseases and receive special government incentives and patent terms.
Even without acquisitions, Concordia could grow its revenue by $150 million over the next five years through Donnatal and cancer drug Photofrin alone, Martin Landry, a Montreal-based analyst with GMP Securities, said in a May 28 research note.
Thompson is no stranger to complex pharmaceutical deals, having been involved with more than C$2 billion in industry transactions, most of which occurred when he was associate general counsel at Biovail from 2001 to 2005.
After that, Thompson said he almost took the chance to ride around the world on his BMW motorcycle. Those dreams may have to wait again if Concordia does get acquired. Though it's not his plan right now, Thomson said he might take the chance to sell and start a new company "if the opportunity arose."