Agnico Eagle CEO Prowls for More Gold Deals After Osisko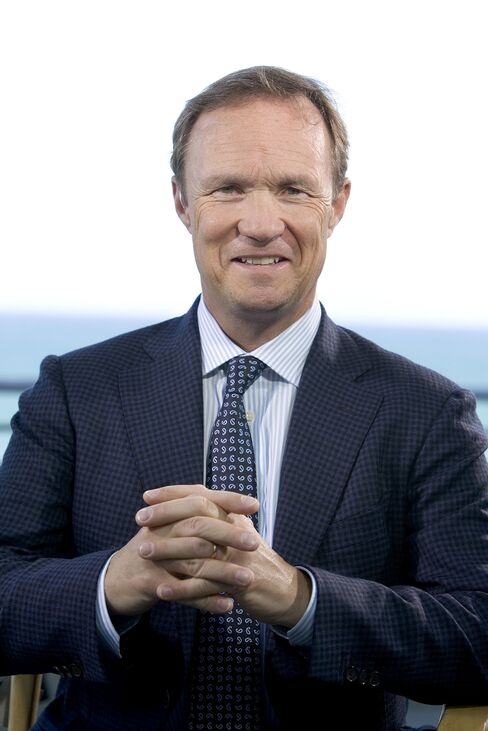 Agnico Eagle Mines Ltd. just closed the biggest deal in its 57-year history, but that doesn't mean Chief Executive Officer Sean Boyd is putting away his checkbook.
The gold producer is looking to build up its Latin American presence with smaller deals after it completed the acquisition last week of 50 percent of Canada's biggest gold mine. Yamana Gold Inc. bought the other half of Osisko Mining Corp. in a $3.44 billion deal, the largest in the industry since 2010.
"One of the questions we got when we were out talking to our shareholders with Osisko was, 'OK, you're done now I guess?'" Boyd said in an interview at Bloomberg's Toronto office. "Actually, no we're not."
Gold merger and acquisition activity has revived this year after falling to the lowest total deal value in 10 years in 2013 as companies grappled with a sharp drop in the metal's price. Dealmaking will continue as the largest producers sell assets to simplify unwieldy businesses, while others seek to add lower-cost mines, Boyd said.
Toronto-based Agnico wants to add assets in Mexico, although it would consider entering a new country, Boyd said. Agnico, which also has a mine in Finland as well as four in Canada, is looking for "small" deals where it can increase the value of a project and potentially lower the overall company's average costs, Boyd said.
'Dozen Things'
Agnico would be able to acquire another two or three mines or projects in the next few years, depending on their location, without overextending itself, Boyd said.
"We have a couple of dozen things that we are constantly looking at," he said. "For us it's always been about manageability; it's OK to grow but if you can't manage the growth, as we've seen from some of our bigger competitors, then you're not going to get paid for it."
Gold-mining equities lost about half their value last year as the metal dropped the most in more than three decades. While prices have recovered some ground this year, which helped improve markets for exploration and development companies in need of cash, many so-called juniors are still struggling to access capital.
The mining industry is showing "signs of life" for dealmaking, William Quinn, head of mergers and acquisitions at TD Securities Inc., said at a conference in Toronto June 24.
'Opportunistic Environment'
"You're going to see what you'd characterize as more of an opportunistic environment where people are looking for well-priced assets," Quinn said. "They're going to be careful and selective about what they're doing as opposed to more broad-based activity."
Not every company is interested in finding a buyer. Agnico has approached juniors recently, and some of the reactions have been "pretty lukewarm," Boyd said.
Gold futures fell 0.4 percent to $1,317 an ounce on the Comex in New York today. The metal reached a record $1,923.70 in September 2011.
Agnico Eagle has risen 42 percent in Toronto this year, and its first-quarter earnings excluding one-time items were more than double the average of 17 analysts' estimates.
Osisko's Canadian Malartic mine was expected to produce 525,000 ounces to 575,000 ounces this year, Osisko said May 14. Agnico and Yamana won control of the mine after trumping an earlier hostile offer for Osisko from larger rival Goldcorp Inc.
New Owners
The new owners are assessing how they can improve costs and potentially expand output at the mine, Boyd said. It's too early to predict what they will decide, he said.
"We got involved with it because we felt there was an ability to expand it," Boyd said. "Now we need to sort of work through it and figure out the best way."
Another question mark in Agnico's future is Meliadine, a project in the northern Canadian territory of Nunavut. While the company expects to have a feasibility study completed later this year, there's no firm timeline for making a decision on whether to go ahead with the project, Boyd said.
Agnico is "open minded" on bringing partners into the project and has had some early discussions with other parties on the subject, Boyd said. The current thinking is to focus on starting with a smaller, underground mine that could be scaled up in the future, he said.
"Meliadine will be driven off of the quality of the deposit and the investment opportunity that we have relative to whatever else we have in the business," Boyd said. "But if you ask me would I like to build it? Yes."
Before it's here, it's on the Bloomberg Terminal.
LEARN MORE