Telefonica, Drillisch Sign Deal to Seal E-Plus Merger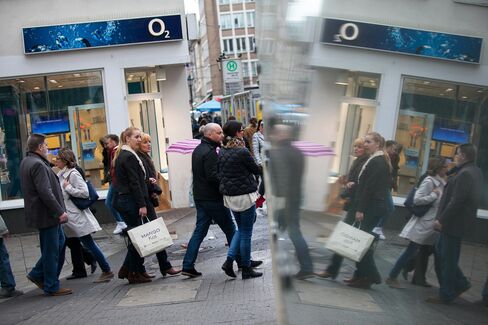 Telefonica SA, the Spanish phone company that's merging its German business with Royal KPN NV's E-Plus unit, agreed to sell network capacity to local rival Drillisch AG, bringing it closer to winning antitrust approval.
Drillisch, a small carrier that doesn't own a network, will buy 20 percent of the capacity of all mobile networks that will be controlled by Telefonica Deutschland Holding AG after the E-Plus deal over five years, Telefonica said today. The agreement will be effective only if the European Commission clears the E-Plus takeover, with a decision expected next month, it said.
Telefonica's $12 billion deal to merge its German business with E-Plus has to overcome concerns at the European Commission that reducing the number of German wireless operators could harm competition and increase prices. Regulators have been criticized for approving the combination of two Austrian mobile operators without ensuring more competition from smaller rivals.
Telefonica "seems to have everything on track" with these deals, Javier Mielgo, an analyst at Mirabaud Securities LLP in Madrid, said by phone. "You can never tell till the end, but these type of agreements are usually with prior" guidance from the EU, he said.
Telefonica fell 1.2 percent to 12.61 euros at 2 p.m. in Madrid, while its German unit lost 0.2 percent to 6.07 euros in Frankfurt. Drillisch rose 4 percent to 29.77 euros, bringing its gain over the past 12 months to 140 percent.
Drillisch Growth
Five out of 12 national competition regulators, including Germany's Federal Cartel Office, last week rejected an EU proposal for the E-Plus deal in a non-binding vote, a person familiar with the process said, asking not to be identified because the vote wasn't public. There were five abstentions and two were in favor, the person said.
Competition Commissioner Joaquin Almunia, who has set a deadline of July 10 for ruling on the transaction, said yesterday the final decision will be made by the commission.
Antoine Colombani, a spokesman for the European Commission, declined to comment on today's network agreement.
Telefonica Deutschland spokesman Albert Fetsch declined to comment on the terms of the agreement beyond the statement and wouldn't say how soon Drillisch would be able to start using the added capacity.
Smaller Savings?
Drillisch is "confident" the agreement will help its business, Oliver Keil, the company's head of investor relations, said by phone. The operator won't explain its strategy before the commission acts on the Telefonica merger with E-Plus, he said.
Other carriers Telefonica talked to included Freenet AG, United Internet AG and Liberty Global Plc's Unitymedia KabelBW, people familiar with the matter have said.
Freenet will remain "one of the most important partners" for Telefonica Deutschland, with which it has network-use contracts through 2025, spokeswoman Elke Ruether said by e-mail. She declined to say whether Freenet failed to reach an agreement akin to that secured by Drillisch.
United Internet didn't reach an accord with Telefonica because the conditions didn't represent an improvement over its existing access agreements, spokesman Marcus Schaps said. Unitymedia representatives didn't immediately return a call seeking comment.
"It appears that Drillisch will be the only MVNO getting access," Emmanuel Carlier, an analyst at ING Groep NV in Brussels, said in a note to clients today, referring to mobile virtual network operators. While the agreement makes regulatory approval of the E-Plus deal more likely, remedies could lower targeted cost savings, he said.
Share Reaction
United Internet shares fell as much as 6.8 percent to 32.73 euros, the biggest intraday drop since April 14. Freenet declined as much as 2.7 percent.
Today's agreement would help Maintal, Germany-based Drillisch expand its wireless customer base, which grew 4.5 percent in the year ended in March to 1.94 million. The company, headed by Chief Executive Officer Paschalis Choulidis, was banned from the network of Deutsche Telekom AG in 2011 after that operator alleged Drillisch had wrongly accounted for thousands of prepaid customers.
Drillisch now provides service on Vodafone Group Plc's and Telefonica's networks in Germany, although it uses a much smaller portion of those networks than the capacity from today's agreement.
The MVNO will reach the 20 percent mark over a period of five years and has the option to acquire an additional 10 percent of the merged company's capacity, according to the statement.
"By means of the agreement certain remedies shall be implemented, which Telefonica Deutschland offered during merger control proceedings in order to remove competition concerns of the European Commission," Telefonica said.
The EU extracted concessions to bolster so-called virtual operators in Ireland when it approved Hutchison Whampoa Ltd.'s bid for Telefonica's Irish business last month.
Before it's here, it's on the Bloomberg Terminal.
LEARN MORE