Renzi Overtakes Cameron in Race to Win Over Merkel on EU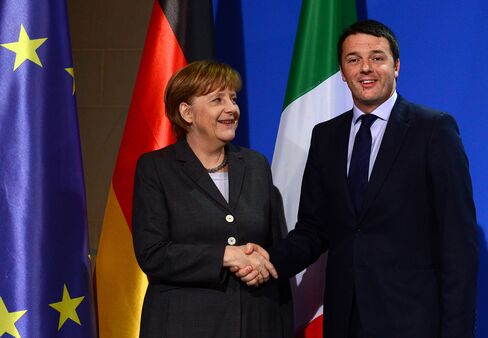 Italian Prime Minister Matteo Renzi says he wants to change Europe. He'll have to join the line of leaders seeking to convince German Chancellor Angela Merkel.
When the European Union's 28 leaders sit down to dinner this evening in the Belgian town of Ypres for a discussion focusing on the bloc's future direction, it will be Merkel who'll stick to the set menu of spending rigor while Renzi attempts to free up some budgetary leeway.
Emboldened by the strongest showing of any national leader in European Parliament elections last month, Renzi is using his new-found legitimacy to cajole fellow EU leaders into easing the clamp on spending that was applied during the debt crisis. That means guiding Europe away from German-inspired austerity and toward more fiscal flexibility.
"Europe's economic policy strategy needs profound change to become more expansive," Renzi told the Italian parliament in Rome two days ago. "The risk isn't only the disintegration of the currency and the European Union, but also of a larger crack in the entire western world."
The 39-year-old Italian premier is not the only leader to take advantage of an opening tied to a changeover in personnel at the top of the EU's decision-making bodies to make his case. His fellow Socialist, French President Francois Hollande, said after a weekend meeting of like-minded leaders that he'll push at the EU summit beginning today to "use all the flexibility" allowed in the fiscal rules. "France and Italy now share the same goal," he said.
Juncker Clash
Renzi, who attended the June 21 gathering in Paris, has held a number of low-key policy meetings with other leaders in recent weeks in a bid to form alliances.
That contrasts with his fellow would-be European reformer, U.K. Prime Minister David Cameron. The British premier has demanded far-reaching changes to the way the EU operates and publicly opposed Jean-Claude Juncker's nomination as president of the European Commission, saying that failure to get his way would make U.K. exit from the bloc more likely.
"Renzi is playing his cards in a more strategic way than Cameron is at the moment," Marco Incerti, an analyst at the Centre for European Policy Studies in Brussels, said by phone. "Cameron's strategy is not winning him many friends in Brussels and increasingly alienating those who would be his natural political allies. Meanwhile in the back rooms, Renzi is making progress."
Grand Bargain
Renzi was cited in Italian newspaper Corriere Della Sera last week as saying that he will join Merkel and most other European leaders in backing Juncker, a former Luxembourg premier, to head the commission -- as long as he is promised greater budget flexibility.
That would mean a more relaxed interpretation of the EU's fiscal rules to enable countries to pursue more growth-enhancing measures and indulge in greater investment spending than they can at present.
After Greece, Italy has the second highest debt pile in the 18-nation euro area, at 135.2 percent of gross domestic product this year according to the commission, and under EU rules will face stricter targets for reduction starting in 2016.
Germany forced through a tightening of the EU's debt and deficit rules in 2011 after the scale of Greece's financial plight became clear and Merkel, who exerts the greatest influence as leader of the bloc's largest economy, has consistently said that the strictures must be respected.
'Necessary Flexibility'
While the chancellor continues to rebuff Cameron's pleas to join him in opposing Juncker, there are signs she might be more willing to listen to Renzi, albeit in return for a continued commitment to reform.
The EU's so-called stability pact entails "the necessary flexibility to allow for a growth-friendly consolidation of budgets and makes clear that stable growth can only be achieved through structural reform," Merkel told lawmakers in Berlin yesterday in a speech addressing the two-day summit.
Leaders will call for the EU's existing rules to be used "to balance fiscal discipline with the need to support growth," according to a draft of the summit conclusions. "Fiscal consolidation must continue in a growth-friendly and differentiated manner," it says.
EU Presidency
Italy takes over the EU's rotating presidency at the start of July, giving Renzi the opportunity to give his message of change a stronger impetus still. What's more, after the EU elections, his party is the second-largest national delegation in the European Parliament after Merkel's Christian Democratic Union and its Bavarian sister party.
Support from Hollande would help Renzi restore Europe's Mediterranean flank as a counterweight to the northern countries after the damage done by the debt crisis that began in Greece. Both Italy and France are struggling for growth and jobs, with Italy's economy contracting by an annual 0.1 percent in the first quarter of 2014 and France's stagnant, compared with Germany's 0.8 percent expansion.
Hollande, suffering record low approval ratings and bruised by his party's defeat last month by Marine Le Pen's National Front, could use a "strong ally" in Renzi, said Guntram Wolff, director at Brussels-based policy group Bruegel.
"Whatever happens in terms of reforms for Renzi, it's in Germany's interest that Renzi succeeds," Wolff said by phone. "And it's in Germany's interest that Hollande succeeds."