Puerto Rico Proposal Would Let Agencies Restructure Debt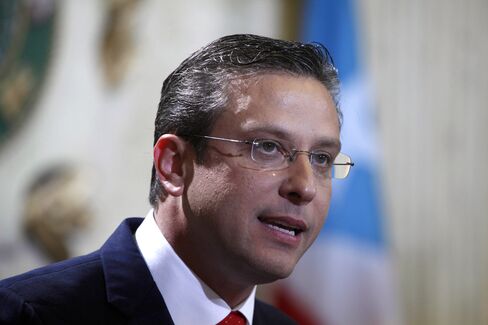 Puerto Rico Governor Alejandro Garcia Padilla proposed legislation that would let certain public corporations restructure debt.
The measure excludes changes to general-obligation bonds and debt backed by sales-tax revenue, according to an e-mailed statement. Public utilities such as the Puerto Rico Electric Power Authority and the Puerto Rico Aqueduct and Sewer Authority would be able to negotiate with bondholders to change their debt loads. The commonwealth and its agencies have $73 billion of debt.
"The Recovery Act is created to provide a clear legislative framework that allows public corporations to address their financial difficulties without compromising any essential services provided by these corporations," David Chafey, chairman of the Government Development Bank, which works on the commonwealth's debt sales, said in the statement.
Investors have been anticipating a potential debt restructuring since August, with the island's economy struggling to grow for eight years and an unemployment rate of 13.8 percent that's more than double the U.S. average. Puerto Rico's challenges affect the $3.7 trillion municipal-bond market because about 66 percent of U.S. mutual funds that focus on state and local debt hold the securities, according to Morningstar Inc.
"If you had reviewed the financials of these public corporations, you would have seen that there's great stress," said Robert Amodeo, head of munis in New York for Western Asset Management Co., which oversees about $30 billion of state and local debt.
Yields on Prepa bonds surged. Agency debt that matures in July 2017 rose to an average yield of 22 percent, a record high and up from 12 percent when it last changed hands in April, according to data compiled by Bloomberg. That's equivalent to about 64.7 cents on the dollar.
(A previous version of this story gave an incorrect title for David Chafey.)
Before it's here, it's on the Bloomberg Terminal.
LEARN MORE