Kinnevik CEO Targets Web Growth to Focus on Fewer Assets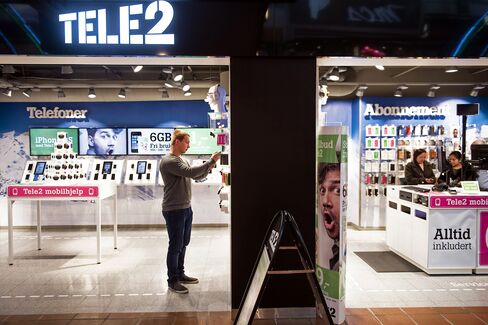 Investment AB Kinnevik, owner of online retailer Zalando SE and phone carrier Tele2 AB, plans to focus on fewer assets to concentrate on holdings with the most potential, its new chief executive officer said.
The Stenbeck family's investment company, whose assets also include Millicom International Cellular SA and Modern Times Group AB, has no investments that it wouldn't sell for the right price while it seeks growth in areas such as the Internet, CEO Lorenzo Grabau said yesterday in an interview.
"There are no sacred cows," Grabau said at his offices overlooking the Stockholm harbor with its sailboats. "Over the next five years, we'll be first and foremost focusing our energy, resources and financial firepower on a smaller number of the best brands."
Grabau, who spent 17 years as a Goldman Sachs Group Inc. banker, took the helm at Kinnevik in May, succeeding a CEO who more than tripled the 78-year-old company's stock price during her tenure. He said he'll push deeper into Web and mobile businesses to benefit from changes in consumers' habits while focusing on fewer holdings than the about 45 companies Kinnevik owns now.
Grabau is building on a strategy started by predecessor Mia Brunell Livfors, who resigned in January after more than seven years. Known for assets that it's held for decades, Kinnevik has gradually been abandoning its industrial roots with a focus on digital services. Last year, Kinnevik sold its stake in its oldest holding, packaging company BillerudKorsnaes, for 3.7 billion kronor ($550 million).
Tele2 Commitment
About 90 percent of Kinnevik's portfolio is made up of telecommunications and financial-services assets, and a third are online-related, according to its website. It has a 30 percent stake in Sweden's second-largest wireless carrier Tele2, which is considering selling its Norwegian business.
Tele2 hired ABG Sundal Collier Holding ASA in March to evaluate strategic options in Norway, where it lost a spectrum auction in December. Tele2 would benefit the most by selling its Norway assets to rival TeliaSonera AB, Berenberg Bank said in April. Last year, Tele2 sold its Russian unit to lender VTB Group for about $2.4 billion.
Kinnevik is "very committed" to continuing to build Tele2, Grabau said.
Tele2 shares rose 0.2 percent to 78.70 kronor at 9:24 a.m. in Stockholm. Kinnevik added 0.6 percent to 263.90 kronor. The stock, which more than doubled last year, has lost 11 percent this year, giving Kinnevik a market value of 73.5 billion kronor.
Zalando IPO
Zalando, Europe's largest shoe and fashion Web retailer, could sell shares as early as next quarter, people familiar with the matter have said. Rocket Internet GmbH, an investor in online startups which Kinnevik has a stake in, is also planning an initial public offering, people familiar have said.
Grabau said that markets are "wide open" for strong companies seeking IPOs, without commenting specifically on Zalando or Rocket.
"We have made no decision that there will be an IPO or there will not be an IPO," Grabau said. "Whenever a company reaches a certain size it should be ready to entertain investor discussions."
Kinnevik, established in 1936 by three friends to focus on the farming, steel and iron industries, is controlled by the children of Swedish telecommunications and media investor Jan Stenbeck.
Before it's here, it's on the Bloomberg Terminal.
LEARN MORE