Bilfinger Turns to Industrial Deals After U.K. Takeovers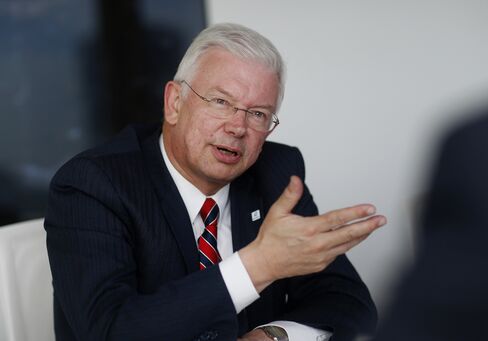 Bilfinger SE, the German builder transforming itself into a provider of factory and property services, still has 700 million euros ($955 million) for industrial acquisitions after buying two U.K. building-management companies.
"Future acquisitions will largely be in Bilfinger's other business segments" of industrial services and power plant maintenance, Chief Executive Officer Roland Koch said in an interview at Bloomberg's Frankfurt office. "We have plenty of ideas."
Bilfinger will first integrate real estate consultant GVA and Europa Support Services to boost its building-management business in the U.K. more than 11-fold to 400 million euros a year, Koch said. It bought Europa in December and said June 23 it has GVA shareholder support to complete that deal.
Bilfinger, once Germany's second-biggest builder, has been withdrawing from construction as it tries to stabilize earnings by avoiding the cyclical peaks and troughs of the building industry. As the 134-year-old company focuses on industrial and power services, as well as facility management, it added almost 6,000 employees through purchases in 2013.
Koch has bought 25 companies with an enterprise value of about 1 billion euros since taking the helm in 2011. One goal is to increase Bilfinger's reach outside Europe, where it gets less than 20 percent of sales. The Mannheim-based company said last month it will sell civil engineering businesses with sales of about 800 million euros as it steers away from construction.
Hochtief Differs
The strategy is different from that pursued by Hochtief, Germany's biggest builder, which has reversed a push into services to concentrate on engineering projects.
"We are talking about growth opportunities that aren't exactly in line with broader macroeconomic data," said Koch, who previously served as premier of the German state of Hesse. "The outsourcing of industrial facilities, retrofit programs for power plants and changing energy sources are not exactly markets that are tied to macro trends."
The approach is rewarding investors, as Bilfinger shares have returned about 47 percent in three years, including reinvested dividends. That compares with a 15 percent return for Hochtief and a 37 percent return for the Euro Stoxx Industrial Goods & Services Index of 46 companies.
The shares fell 0.6 percent to 83.16 euros at 11:40 a.m. today in Frankfurt, giving Bilfinger a market value of 3.8 billion euros.
Stable Contracts
"In services you naturally have a lot more visibility than you do as a construction company because you have a higher proportion of long-term contracts," said Ingbert Faust, a Frankfurt-based analyst at Equinet who has a hold recommendation on the shares. "Margins are higher than they were in the earlier segment, but the capital employed is also higher."
Bilfinger's construction output, the industry's measure of completed work, declined 26 percent last year to 1 billion euros. The figure increased 7 percent to 4 billion euros at the industrial division, the largest unit. Output rose 4 percent in building and facility services and fell 5 percent in energy operations. Total revenue rose 0.9 percent to 8.4 billion euros.
Bilfinger is forecasting output of at least 11 billion euros by 2016 with earnings of about 400 million euros. That compares with 8.5 billion euros and 249 million euros respectively last year.
IBM Property
The building and facility division -- now larger with Europa and GVA -- provides services such as electrical maintenance, cleaning and the provision of furniture. Bilfinger runs more than 200 International Business Machines Corp. properties and manages real estate for Deutsche Bank AG.
Bilfinger hasn't disclosed prices paid for most deals as the majority involve closely held companies. Recent purchases have been 300 million euros or less, according to the company.
Equinet estimates that GVA is worth about 160 million euros. The company manages student housing and helps clients such as fashion retailer Mint Velvet find store locations. Europa had 142 million pounds ($241 million) in sales in 2012.
In the U.K., Bilfinger's plans include doing more property management in the City of London financial district, Koch said.
The company is also expanding in the U.S. amid an industrial recovery, and acquisitions there have been a success, Koch said. One of the biggest recent deals was last year's purchase of Johnson Screens Inc., a U.S. provider of industrial filters and water-well screens.
BASF SE, the world's largest chemical company, is investing more than 1 billion euros in U.S. facilities to take advantage of lower energy costs. Bilfinger, which counts BASF among its biggest customers, stands to benefit.
"It is naturally an opportunity for us," Koch said. "We will follow a Wacker Chemie, a BASF, a Bayer or a Lanxess. We follow American companies worldwide and are set up in a way that lets us do so."
Before it's here, it's on the Bloomberg Terminal.
LEARN MORE