AbbVie Won't Rule Out Going Hostile in Tax-Slashing Deal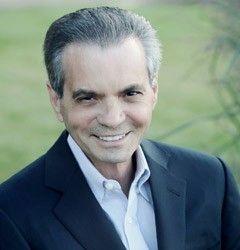 AbbVie Inc. said its $46.5 billion bid for Shire Plc offers "compelling" value for Shire shareholders and that it won't rule out going hostile in its drive to acquire the drugmaker.
Joining the companies will accelerate sales growth for both while cutting AbbVie's tax rate by almost 10 percentage points with a tax inversion, the company said in a statement today. Shire's products are "complementary" to AbbVie's, and the U.S.-based company can improve their global marketing, AbbVie Chief Executive Officer Richard Gonzalez said.
"We're not willing to restrict our legal options," Gonzalez said today during a call with analysts. "We do intend to engage Shire's shareholders."
Shire is domiciled in Dublin for tax purposes with its management offices in Basingstoke, England. The combined company would be managed from North Chicago, Illinois and would have a tax domicile in the U.K., AbbVie said in its statement. With a deal, AbbVie's tax rate would drop to 13 percent from about 22 percent last year, the company said.
To make a firm offer, AbbVie would want unanimous support from Shire's board, according to the U.S. company's statement.
"There's an opportunity here that we believe strategically makes a lot of sense, financially is attractive, and it's something we believe will build on our already strong strategy," Gonzalez said.
'Highly Executable'
AbbVie also addressed Shire's criticism that its plan to move out of the U.S. for tax purposes is risky, saying it "believes the proposed transaction is highly executable."
Shire responded in a statement today that its shareholders should take no action.
"Today's announcement by AbbVie contains no new proposal and provides no material new information," the drugmaker said in the statement. "The board of Shire has already considered this proposal in detail and unanimously rejected it, concluding that it fundamentally undervalued the company and its prospects."
Under U.K. takeover rules, AbbVie has until July 18 to make a firm offer or walk away. If it walks away, it's precluded in most cases from making another bid for as long as six months.
Shire rose 2.6 percent to 45.17 pounds at the close in London. AbbVie also climbed 2.6 percent to close at $55 in New York.
AbbVie's bid for Shire is the latest cross-border deal proposed by a U.S. company seeking lower taxes and the freedom to spend its overseas cash. On June 15, Medtronic Inc. agreed to buy Dublin-based Covidien Plc, a maker of medical equipment. Pfizer Inc. also bid $117 billion for London-based AstraZeneca Plc -- and was rejected -- in what would have been the largest deal in drug industry history.
Explicit Motivation
"Tax inversion is a pretty explicit motivation," said Ronny Gal, a New-York based analyst at Sanford C. Bernstein & Co. in a telephone interview. "If enough of these transactions take place, Congress would act. It's unlikely this will happen before the election. However, if it looks like jobs will begin to be lost in the U.S., you could see more action."
Pfizer's failed bid was criticized as a potential job-killler that would hinder the U.K.'s reputation as a science center, snarling the proposal in political discussions.
"Notice that AbbVie said operational headquarters stay in Chicago, so they're saying jobs won't be lost but they don't want to pay U.S. taxes," Gal said.
Gonzalez's decision not to rule out a hostile bid also differs from Pfizer's strategy. Pfizer eventually said it wouldn't go hostile in its bid for AstraZeneca.
Rejected Bid
The cash-and-stock bid rejected by the Shire board valued the company at 46.26 pounds a share as of May 29, before AbbVie made the proposal, AbbVie said. Shire calculates the original value differently, putting it at 46.11 pounds.
Because AbbVie's stock has declined, the bid is now worth about 45.64 pounds, according to AbbVie's statement.
A deal would give AbbVie, which depends on the arthritis therapy Humira for about 60 percent of its sales, access to Shire's array of rare disease treatments and drugs for attention deficit hyperactivity disorder.
At the same time, AbbVie would boost share buybacks if the deal went through, Chief Financial Officer William Chase said on the call. The tax gain allows a "significantly increased return of capital while maintaining a growing dividend," and may help with future acquisitions, he said.
An agreement promises to add "materially" to AbbVie's earnings per share in the first year after it's completed, the company said in its statement.
Flemming Ornskov, Shire's chief executive officer since May last year, has argued to keep his company independent, projecting that product sales will double to $10 billion by 2020 as Shire expands in drugs for eye maladies and other rare diseases.