Ukraine Seeks EU Talks With Putin as Rebels Shatter Truce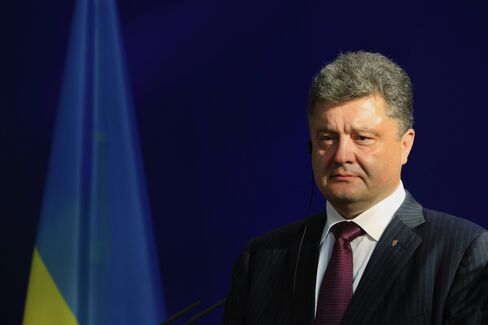 Ukrainian President Petro Poroshenko called for immediate talks with leaders in Russia, Germany and France after pro-Russian rebels shot down a government helicopter in violation of a cease-fire.
Ukraine will end its week-long truce early if separatists continue to attack government forces during a cease-fire supported by both Russian President Vladimir Putin and rebel leaders, Poroshenko said on his website late yesterday.
Poroshenko, 48, called on Putin, German Chancellor Angela Merkel and French President Francois Hollande to hold joint talks today to discuss ways to end months of fighting, which has left hundreds dead. Separatists downed an Mi-8 chopper in the eastern city of Slovyansk, killing all nine people on board and have violated the truce 44 times in the past three days, Defense Ministry spokesman Vladyslav Seleznyov said on his Facebook account late yesterday.
"Without hesitation," Ukrainian forces will return fire if rebels don't halt their attacks, Poroshenko, in office less than a month, said in on his website.
Even before the chopper attack, Poroshenko said militants have violated the truce and NATO Secretary General Anders Fogh Rasmussen said today that "we see no signs that Russia is respecting its international commitments."
'Stop Flow'
European officials, including U.K. Foreign Secretary William Hague, urged Russia to take action to stop "the flow of arms across the border, to stop supporting illegally armed separatist groups in eastern Ukraine."
Hague, speaking to reporters before the meeting of North Atlantic Treaty Organization foreign ministers in Brussels today, said that "in the absence of that action by Russia the case for stronger sanctions by the European Union will of course become stronger."
The U.S. is preparing sanctions aimed at specific areas of the Russian economy, including energy and technology, as the Obama administration readies the next steps to pressure Russia over the Ukraine crisis, according to three people briefed on the plans.
The EU, some of whose members have expressed concern that additional penalties against Russia risk harming their economies, may not agree to the next phase of sanctions being considered by the U.S., according to two of the people, who asked for anonymity, citing the sensitivity of the deliberations.
Verifiable Steps
Still, Merkel told members of her party this week that Russia faces economic sanctions at a June 26-27 EU summit unless it takes verifiable steps to calm the crisis by June 27, according to two people present at the meeting. EU foreign ministers called on Russia to rescind the military mandate in a resolution after a meeting in Luxembourg.
The government in Kiev and its U.S. and EU allies say Russia is fueling the conflict by allowing weapons including tanks and anti-aircraft missiles -- like the one that downed a military plane June 14, killing 49 soldiers -- to flow to rebels into Ukraine across its border. They also say Russia has provided manpower and other support to the rebels, who sent representatives to speak to senior officials in Moscow last month to seek funding.
Ignoring Facts
Russia's Foreign Ministry said the 28-member bloc is ignoring "inconvenient" facts about the fighting between Ukrainian forces and separatists. It decried the deaths of children, thousands of refugees fleeing to Russia and violations of Russia's borders.
Just hours before the helicopter was shot down, Putin asked lawmakers to rescind the authorization they gave him on March 1 to use force to protect native Russians in Ukraine, a conciliatory gesture that sent stocks and the ruble higher before he traveled to European Union-member Austria.
The EU on June 23 demanded Russia overturn that mandate, which helped fuel months of market volatility in Russia and Ukraine. Putin's spokesman, Dmitry Peskov, said the Russian leader was trying to stabilize Ukraine during peace talks, which started two days ago.
"We think, and it cannot be avoided, that there is a need to start talks about the future organization of Ukraine itself and guarantee the lawful rights and interests of people who live in the southeast of the country," Putin said.
'Extremely Important'
Those talks are "extremely important," though it's "senseless" to demand rebels in Ukraine lay down their arms, Putin told reporters in Vienna yesterday. Russia will always protect Ukrainians who feel "part of the Russian world," Putin said, adding that he hopes force won't be needed.
Poroshenko declared a unilateral cease-fire on June 20 and rebel leaders in mainly Russian-speaking eastern regions agreed to join it four days later. Putin said the truce should be extended past the current June 27 end point.
The U.S. welcomes any step by Russia to end the crisis and called on separatists to abide by the cease-fire, White House spokesman Josh Earnest told reporters in Washington.
Trade Pact
Ukraine plans to sign a trade pact with the EU on June 27 in Brussels, the same day the cease-fire expires. Former Moscow-backed President Viktor Yanukovych's move to delay an agreement last year under Russian pressure provoked months of protests that led to his February ouster.
After Russia responded by seizing Crimea and pro-Russian rebels started a rebellion in the east, the U.S. and the EU imposed sanctions on people and companies close to Putin, while threatening the government in Moscow with broader sanctions against the stumbling Russian economy.
There isn't any further need for "extraordinary" measures and Russia is genuine in its wish to lower tensions, Andrei Klimov, deputy head of the foreign affairs committee in the upper house of parliament in Moscow, said by phone.
Before it's here, it's on the Bloomberg Terminal.
LEARN MORE