Park's Latest Premier Nominee Quits Candidacy in South Korea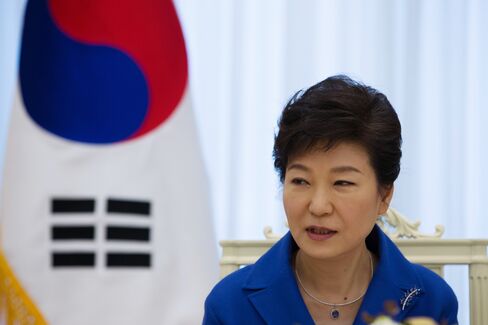 June 24 (Bloomberg) -- South Korean President Park Geun Hye's latest nominee for prime minister withdrew from consideration after a backlash over a speech he made saying Korea was meant to suffer its brutal occupation by Japan.
Moon Chang Keuk denied at a televised briefing today that he was pro-Japan and said he hoped his withdrawal would "help" Park lead the country. Public broadcaster KBS earlier this month showed footage of Moon calling Japan's 35-year colonial rule of Korea God's plan. In another instance, the former journalist said Japan need not apologize to Korean women forced to serve in Japanese military brothels before and during World War II. Moon publicly apologized on June 15.
Moon's withdrawal comes two weeks after his nomination and exacerbates troubles for Park, who has struggled to name a new premier to lead a government overhaul after the April 16 Sewol ferry sinking that sapped confidence in her administration. In May, her first pick withdrew amid graft allegations by opposition parties that he denied.
"The president has already suffered too much," Rhee Jong Hoon, a political commentator who heads the iGM political consulting firm in Seoul, said by phone. "She cannot afford another nomination failure. The Moon saga turned into a symbol of her ineffectiveness to deal with problems and vet people."
Botched appointments have troubled Park since she won the December 2012 election. She had four cabinet picks withdraw amid graft allegations and two for personal reasons when she tried to form a government last year. She also fired her first spokesman after he was accused of groping an intern at South Korea's embassy in Washington during her U.S. trip last year.
Falling Rating
Her approval rating dropped to 43 percent, the lowest in 14 months due to the controversy over her nomination of Moon, Gallup Korea said last week in an e-mailed statement. Her disapproval rating outstripped her approval rating for the first time since she took office in February 2013, it said.
"This nation fell into a deeper confrontation and division after the nomination," Moon said. "I worried this situation would pose an obstacle to the president's governing."
The president holds executive power in South Korea,with the prime minister having limited responsibilities. Park's first premier, Chung Hong Won, offered his resignation on April 27 over the government's handling of the Sewol disaster, and Park had said his replacement would lead the reorganization of her government in a bid to shore up confidence.
Park on June 13 carried out her first cabinet shakeup since taking office after the ferry sinking that fueled public anger at her government and threatened to slow economic growth.
Park regrets Moon's withdrawal before he had a chance to undergo a confirmation hearing, her spokesman Min Kyung Wook said in comments posted on the website of her office.
Park and her biggest opposition split the results of the June 4 local elections, her first electoral test as president.
To contact the reporter on this story: Sam Kim in Seoul at skim609@bloomberg.net
To contact the editors responsible for this story: Rosalind Mathieson at rmathieson3@bloomberg.net Andrew Davis, Stuart Biggs