Pakistan Detains 200 After Woman Killed by Shots at Plane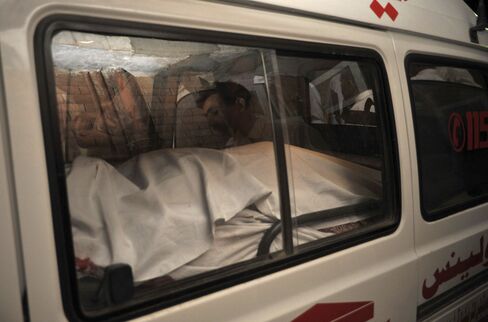 Police detained 200 people after a Pakistan International Airlines plane came under fire while landing in the northwestern city of Peshawar, killing a female passenger and wounding two flight attendants.
Twelve bullets hit the tail side of an Airbus SAS 310 when it was about 500 meters (1,640 feet) off the ground over a "thickly populated area," Najeeb-ur-Rehman, the city's senior superintendent of police, said by phone. Flight PK-756 from Saudi Arabia carried 196 passengers and was attacked at about 11 p.m. local time yesterday, PIA spokesman Mashhood Tajwar said by phone from Karachi.
"There was a threat that they would attack the airport," Najeeb-ur-Rehman said, referring to militants in the Tehrik-e-Taliban Pakistan, known as the TTP, and its affiliates. Firing at a plane while it was in the air was the "easiest way" to strike because police had tightened security at the airport, he said.
The shooting signals a greater threat to civilians after the military moved to wipe out Taliban militants following a June 9 attack on Karachi's international airport that killed 26 people. More airlines may follow Hong Kong-based Cathay Pacific Airways Ltd. in stopping flights to Pakistan, according to Chris de Lavigne, an aviation and defense analyst at Frost & Sullivan.
"There will be increased caution with regards to Pakistan," he said by phone from Singapore. "That is now two events in a short space of time."
'Getting Bolder'
Emirates, the Dubai-based airline, today said it was suspending flights to Peshawar until further notice, citing the security situation in the city. Air Arabia canceled flights to Peshawar today and expects to resume them tomorrow.
No one has yet claimed responsibility for the attack. The TTP said it conducted the Karachi airport assault, prompting Prime Minister Nawaz Sharif to order an offensive on the group in North Waziristan, a region near the Afghan border. The TTP wants to impose its version of Islamic Shariah law in Pakistan, which includes a ban on music and stricter rules for women.
"Today Pakistan faces the world's most significant threat from terrorism," Rohan Gunaratna, head of the S. Rajaratnam School of International Studies' International Centre for Political Violence and Terrorism Research in Singapore, said by phone. "The terrorists are getting bolder."
Taliban spokesman Shahidullah Shahid earlier this month warned foreign investors, airlines and multinational companies to cut off business with Pakistan. Cathay Pacific said earlier this month it would cease operations in Karachi on June 28 because of "commercial reasons."
Tribal Regions
"This is the first time a passenger plane has been fired on mid-air," Tajwar said in comments to state-run Pakistan Television, adding that the woman killed was a Pakistani citizen. One of the stewards injured in the attack has been discharged from the hospital.
As many as 47 militants were killed yesterday in air strikes in North Waziristan and another tribal region of Khyber which also borders on Afghanistan, the military said in a statement. More than 330 Taliban insurgents have been killed in air strikes and shooting since the operation began. The military is yet to mount the ground offensive.
Sharif won an election last year after pledging peace talks with the TTP, the group at the forefront of an insurgency that has killed 50,000 people since 2001. Negotiations that began in March collapsed over the TTP's demands for prisoner releases.
Mid-Air Shootings
There have been several mid-air shootings over the past few decades. A LionAir flight fell into the sea in Sri Lanka in 1998, killing 55 people on board, with initial reports saying the plane was shot down by the Liberation Tigers of Tamil Eelam (LTTE). Fifteen years later, Sri Lankan Navy salvaged some parts of the aircraft.
In 2002, an Israeli charter airliner was fired on by two missiles, which missed, after it took off from the coastal town of Mombasa in Kenya. The plane landed safely in Israel. Almost at the same time, another bomb killed 13 people at a hotel filled with Israeli tourists.
A year later, a DHL cargo plane was hit by a surface-to-air missile as it took off from Baghdad. A six-minute videotape later showed one of a group of 11 masked fighters firing a shoulder-launched missile. The missile is seen shooting up into the sky and then making a sharp turn to home in on the plane.
Before it's here, it's on the Bloomberg Terminal.
LEARN MORE