Kerry Urging Kurds to Help Form United Iraq Government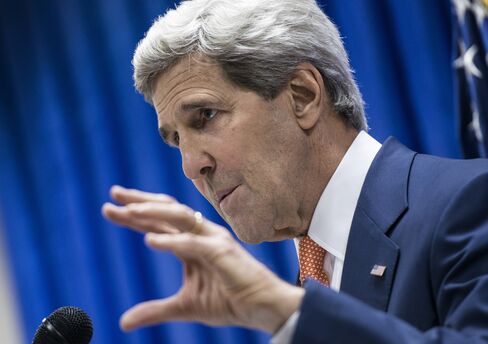 U.S. Secretary of State John Kerry met officials of Iraq's semi-autonomous Kurdish region in his bid to prod leaders to unite against an al-Qaeda offshoot that has seized control over swaths of the country.
In his second visit to Iraq in as many days, Kerry held talks in Erbil today with Massoud Barzani, president of the Kurdistan Regional Government, and other Kurdish leaders. He brought the same plea for cooperation he delivered yesterday to politicians in Baghdad, including Prime Minister Nouri al-Maliki, a Shiite, and Sunni officials, as Iraq works to form a new government after April elections.
Kerry told CNN in an interview after the meeting that Barzani "made it clear that he wants to participate in the process, that he wants to help choose the next government" of Iraq. Kerry didn't say whether Barzani disavowed Kurdish aspirations for independence.
The U.S. says sectarian divisions have helped the al-Qaeda splinter group, the Islamic State in Iraq and the Levant, consolidate its control over areas of Iraq, OPEC's second-biggest oil producer, since capturing Mosul on June 10. Kerry's visit to Baghdad yesterday added to U.S. pressure on Iraqi leaders, including Maliki, who has been accused of sidelining the country's Sunni minority and the Kurds, to form a more inclusive government.
Baiji Fight
Kerry's talks came amid battles to control a key refinery at Baiji, north of Baghdad, the site of almost two weeks of fighting, and clashes along Iraq's borders with Syria and Jordan. Syrian warplanes killed at least 50 people in the western Iraqi province of Anbar where ISIL has made gains, the Wall Street Journal reported, hitting a municipal building, market and bank in a second day of strikes.
ISIL is also among the Sunni forces fighting the army of Syrian President Bashar al-Assad in a civil war that has raged for three years. Both Syria and Maliki's Shiite-led administration in Baghdad are allies of Iran.
Lt. Col. Muslih Mahmoud, one of the army officers assigned to protect the Baiji facility, said the military regained control of the refinery after the arrival of reinforcements. Throughout the fighting there have been conflicting reports of who controls the site.
The United Nations human rights office said today that at least 1,075 non-combatants have been killed in Iraq between June 5 and June 22. At least 757 Iraqis were killed and 599 injured in the northern provinces of Nineveh, Diyala and Salah al-Din provinces, Rupert Colville, a spokesman for the office, said in Geneva.
'Summary Executions'
The death toll "includes a number of verified summary executions and extra-judicial killings," according to the UN, which is receiving reports of abuses by both ISIL and Iraqi forces. More than 300 people died in Baghdad and the country's south, the UN said.
Speaking through a translator, Barzani told Kerry his visit comes at a "very important time."
We seek "a solution for the crisis," Barzani said. "With these changes we are facing a new reality and a new Iraq," he said.
Before Kerry's arrival from Amman, Jordan, Barzani signaled yesterday that the Kurds may push for full independence from Iraq.
"After the recent events in Iraq, it has been proven that the Kurdish people could seize the opportunity now," Barzani said in an interview on CNN. "The Kurdistan people should now determine their future." He added, "Iraq obviously is falling apart anyway."
'Separate Entity'
Kerry, after meeting with Maliki and others, told reporters that Iraq faces an "existential threat." He said U.S. support "will be intense, sustained, and if Iraq's leaders take the necessary steps to bring the country together, it will be effective."
He wants the Kurds to put aside their differences with the central government in Baghdad to help counter ISIL's advance even as the turmoil has rekindled long-standing Kurdish hopes for independence.
"Ever since ISIL started its advance into Iraq, the idea that Kurdistan could become a separate entity has gained more strength," Theodore Karasik, director of research at the Institute for Near East and Gulf Military Analysis in Dubai, said in a phone interview today. "The U.S. wants a united Iraq because partitions will complicate regional relations immensely."
Frontier Posts
While the insurgents' rapid-fire gains across northern Iraq caught the Iraqi military off guard, the Kurds' Peshmerga force has defended the Kurdish region and extended control into disputed areas including Kirkuk, to which they have long staked a claim.
Kerry thanked the Kurds for "security cooperation" and praised the Kurdish forces as "really critical in helping to draw a line with respect to ISIL."
It was impossible to verify opposing claims over who controlled key border crossings with Syria and Jordan.
Hameed Ahmed Hashim, a member of the provincial council in Anbar province, said by phone yesterday that Sunni militants had taken over the Traibil crossing post with Jordan and the Al-Waleed entry into Syria. Almada Press cited military spokesman Qassim Ata as saying today that the posts had been recaptured by the security forces.
Jordan sent tanks and troops to reinforce its border with Iraq, Al Arabiya television said.