Ex-Madoff Accountant Konigsberg Pleads Guilty to Fraud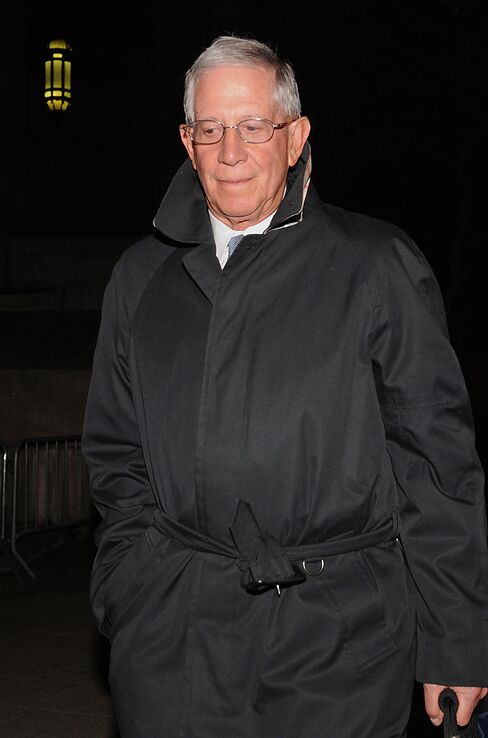 Bernard Madoff's former accountant, Paul Konigsberg, pleaded guilty to aiding the biggest Ponzi scheme in U.S. history, a $17.5 billion fraud exposed by the 2008 financial crisis.
Konigsberg, 78, pleaded guilty to three counts today before U.S. District Judge Laura Taylor Swain in Manhattan. While he admitted falsifying records of a broker-dealer and an investment adviser to help some Madoff clients backdate trades, he said he didn't know the con man was ripping off thousands of customers.
"I was not aware of Madoff's horrible and evil Ponzi scheme," Konigsberg said while reading from a prepared statement in court. He choked up as he recalled the "pain and suffering of so many people," including his own family.
The plea comes three months after a Manhattan jury found five former Madoff employees guilty of aiding the fraud for decades. The convictions, following the first criminal trial stemming from the fraud, gave prosecutors a sweeping victory in an investigation that spanned more than five years.
As part of his plea deal, Konigsberg agreed to forfeit $4.4 million. He faces a maximum sentence of 30 years in prison, plus at least $5.5 million in penalties, Swain said.
Jewish Charities
Madoff, 76, who hatched the fraud in the 1970s, targeted thousands of wealthy investors, Jewish charities, celebrities and retirees. The scam unraveled in 2008 when the economic crisis led to more withdrawals than he could afford to pay. Madoff pleaded guilty in 2009 and is serving a 150-year term.
Konigsberg was part of the conspiracy from 1992 until the scheme fell apart, according to prosecutors. Madoff steered "important" clients to Konigsberg, who helped cover up fraudulent transactions by fabricating books and trading records, the government said. Madoff guaranteed clients a specific rate of return and fabricated trades that Konigsberg was "well aware" of, prosecutors said.
Konigsberg, who has been free on $2 million bail since he entered a plea of not guilty in September, had claimed he was also a victim of Madoff's scam. Swain allowed the bail conditions to remain in place until a pre-sentencing hearing scheduled for Sept. 19.
In his statement, Konigsberg said he witnessed Madoff employees backdate trades to show gains instead of losses, and that he "knew it was wrong." He also aided Madoff by allowing some employees and favored clients to retrieve old trading statements from his office and return altered versions that included backdated trades for tax benefits.
The charges against Konigsberg included conspiracy, falsifying records of a broker-dealer, fabricating records of an investment adviser and falsifying statements to the U.S. about employee-benefit plans.
The five former Madoff employees who were found guilty in March are Daniel Bonventre, the former director of operations; account managers Joann Crupi and Annette Bongiorno; and computer programmers Jerome O'Hara and George Perez. They're awaiting sentencing.
The case is U.S. v. Konigsberg, 10-cr-00228, U.S. District Court, Southern District of New York (Manhattan).
Before it's here, it's on the Bloomberg Terminal.
LEARN MORE