Dinklage, Bernstein, Rabe for Public Theater: Scene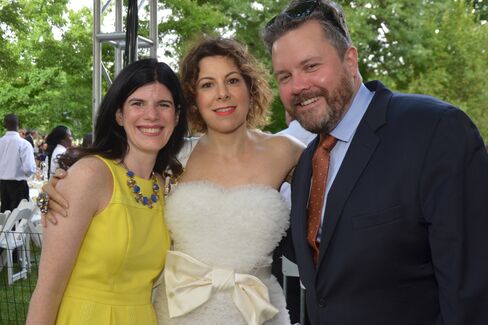 Theater producer Arielle Tepper Madover arrived for the Public Theater's annual gala wearing a white tulle dress by Viktor & Rolf and a jumbo heart-shaped Lanvin ring.
The event in Central Park, in celebration of Marvin Hamlisch and the creation of "A Chorus Line," was "a unique night," said Madover, who became the chairman of the Public last year, following Warren Spector and Ken Lerer.
The timing didn't hurt.
"It's very nice being a week or two after the Tony awards," said Madover, whose "Cripple of Inishmaan" received several nominations. "We've finished the season, we're now into the summer and we can sort of relax and be free and have a breather before we think about fall shows."
It wasn't exactly a breather. The gala was a long, intense tribute with more than 100 people doffing hats and kicking legs for "One," including 17 cast members from the original production of "A Chorus Line."
Almost all the musical numbers were included, which is maybe why the non-musical turn of Zachary Quinto doing Paul's Monologue was the most arresting scene of the night.
For laughs, Jane Lynch helped Jesse Tyler Ferguson "Sing" and Emily Bergl examined some of the plastic surgery in the audience while performing "Dance: 10, Looks: 3."
It was "Dinner: 8, Looks: 9" for the first part of the gala on a sunshine-dappled lawn outside the Delacorte Theater, home to the Public's Shakespeare in the Park.
Union Square
Artichoke and fava bean salad with savory granola came courtesy of Union Square Events. Gala co-chairman Renee Beaumont of Providence Equity Partners was there, as was David Geffen, in a Beats baseball cap sitting with producer Daryl Roth. Other attendees included Alexandra Kaufmann of Pershing Square Capital Management, actor Josh Charles, and Len Tessler of Cerberus Capital Management.
Courtney Love, clad in a navy Issa dress, chatted with manager Mark Subias, playwright Suzan-Lori Parks and composer Jeanine Tesori. Gerald Hathaway, Anne Hathaway's dad who's a partner at Mitchell Silberberg & Knupp and does pro bono labor-law work for the Public, spotted Peter Dinklage, who played Richard III at the Public 10 years ago.
Dinklage posed for selfies with guests as did fellow "Game of Thrones" star Pedro Pascal, who's in the current production of "Much Ado About Nothing."
Chelsea Piers
Uzo Aduba, who plays Crazy Eyes in "Orange is the New Black," sat with Connie Verducci of Bank of America, who'd spent the day touring some of the new education spaces at Carnegie Hall, where Bank of America is a sponsor. The bank is the season sponsor of Shakespeare in the Park through 2016.
As for the chorus line: Jeffrey Kim, a trading assistant at Select Equity Group, recalled singing "One" in the sixth grade, though he didn't execute any high kicks.
Tom Bernstein, president of Chelsea Piers, said he saw the original production of "A Chorus Line" at the Public in 1975, a year after he'd graduated college.
Bernstein had spent the day in Atlanta for the opening of the National Center for Civil and Human Rights, where former Public artistic director George C. Wolfe has designed exhibitions focused on storytelling. With him were the daughters of Strive Masiyiwa, chairman and founder of Econet Wireless, including Vimbai, who said she's studying information systems in college and rooting for Brazil and Ghana in the World Cup.
Ivy League
One Bernstein not present was Sam, who graduated from Yale last month as a two-time Ivy League Golf Player of the Year. His excuse: he was playing the Ike, the Metropolitan Golf Association's Stroke Play Championship, which he led after the first round.
Joshua Bell confessed he asked "Chorus Line" composer Marvin Hamlisch to perform with him on an album so they might become friends. (Hamlisch's wife, Terre, confirmed it had worked.) Donna McKechnie, the original Cassie in the show about a group of dancers auditioning, spoke, as did several members of the original creative team.
The show's history helps explain the loving nature of the tribute. Michael Bennett developed "A Chorus Line" at the Public starting without script or score, or much of a budget. Time was the ultimate gift that Joe Papp, the Public's founder, bestowed, according to the testimonials. It was a good investment: the show became a hit, and a cash cow for the nonprofit theater.
America's Heart
Oskar Eustis, the Public's artistic director, said the production "touched the heart of America" because "it was a musical about working people who wanted a job" at a time when "times were tough."
Actor Fran Kranz said he played Zach, the director in "A Chorus Line," in college. (Brian Stokes Mitchell had the role last night.)
"I like to sing and dance, so what was hard was watching them do it. I felt envious," said Kranz, adding that he'd love to be cast in Shakespeare in the Park. His resume includes playing Claudio in Joss Whedon's "Much Ado About Nothing."
"It's an elite and desirable job, more so than Broadway," he said.
"It's the greatest place to work on earth," Lily Rabe, on a night off from "Much Ado," said to guests before top hats were passed for donations.
"She's a good actress, but she's not that good," added her co-star and partner off stage, Hamish Linklater. "She really means it."
The gala's total haul: $2.2 million.
Before it's here, it's on the Bloomberg Terminal.
LEARN MORE