Credit Suisse Said to Face Two Years of Neil Barofsky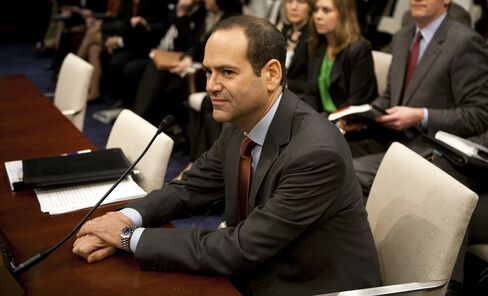 Neil Barofsky, a frequent critic of Wall Street and government bailouts, has been tapped to monitor Credit Suisse Group AG after the bank admitted to helping Americans evade taxes, a person familiar with the matter said.
Barofsky, the former inspector general of the Troubled Asset Relief Program who is now a partner at law firm Jenner & Block LLP, was chosen for the job last week by the New York Department of Financial Services, said the person, who asked not to be named because the selection hasn't been publicly announced.
Credit Suisse agreed to two years of oversight by New York's financial regulator as part of its $2.6 billion resolution with the U.S. Barofsky previously worked as a federal prosecutor in Manhattan with Benjamin Lawsky, head of the New York regulator. Lawsky is recused from the selection process.
Anthony Barkow, a partner of Barofsky's at Jenner & Block, will also be part of the oversight team, the person said.
Barofsky, 44, has criticized federal prosecutors for being too lenient on Wall Street and bankers whose actions fueled the 2008 financial crisis. He has lauded Lawsky as "a national force" who used his office "in ways no one could imagine."
After the Credit Suisse settlement, which included the first guilty plea by a global bank in more than a decade, Barofsky told Bloomberg News that "the Justice Department wants to be perceived as tough as nails while avoiding the collapse of a too-big-to-fail institution and other consequences."
'Deterrent Effect'
Barofsky said that "if there are very few collateral consequences, and the criminal plea is perceived as just another cost of doing business, then the deterrent effect will be minimal."
Credit Suisse on May 19 agreed to pay the largest penalty in an offshore tax case and pleaded guilty to using secret Swiss accounts to help Americans hide money from the Internal Revenue Service, concluding a three-year probe by the U.S.
Under the consent order, Barofsky will report on whether the bank has implemented internal controls to prevent the misconduct from happening again.
Barofsky declined to comment, as did Calvin Mitchell, a spokesman for Credit Suisse, and Caitlin Ferrell, a spokeswoman for the Department of Financial Services. Barkow didn't immediately return an e-mail seeking comment.
Before it's here, it's on the Bloomberg Terminal.
LEARN MORE