China Local Debt Growth Slows as Economic Expansion Cools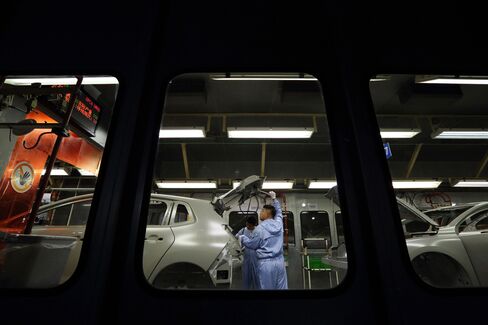 China's chief auditor said growth in local government debt slowed, a sign that tighter scrutiny on borrowing and an economic slowdown have curbed credit.
Outstanding debt for nine provinces and nine cities grew 3.79 percent from the end of June last year through March, 7 percentage points slower than the pace in the first half of 2013, according to a report delivered by Liu Jiayi, head of the National Audit Office, at a National People's Congress meeting yesterday. The report was posted on the office's website.
A slower pace of debt growth would help ease financial risks in local borrowings that surged 67 percent to 17.9 trillion yuan ($2.9 trillion) as of June 2013 from the end of 2010. The government is trying to protect its 7.5 percent target for gains in gross domestic product this year without reviving a credit boom that's evoked comparisons to the runup to Japan's lost decade.
"Local government debt is still high as measured by its share of GDP," said Liu Li-Gang, chief Greater China economist at Australia & New Zealand Banking Group Ltd. in Hong Kong. Regional authorities would need to sell stakes in state-owned companies to reduce debt levels, said Liu, who previously worked at the Hong Kong Monetary Authority and World Bank.
The local-debt accumulation poses risks to central government finances, Moody's Investors Service said in a January report.
Improper Collateral
The nine audited provinces had 821 million yuan in overdue liabilities as of March 31, after borrowing 57.9 billion yuan during the nine preceding months to repay maturing debt, according to Liu's report. Four cities raised a combined 15.7 billion yuan by using government guarantees or collateral that wasn't allowed, Liu said.
The office didn't identify the provinces or cities it audited. A media officer for the agency declined to elaborate when reached by phone today.
"The slowdown in the pace of debt accumulation is a major success of policy makers," Dariusz Kowalczyk, a senior economist at Credit Agricole SA in Hong Kong, said in an e-mail. "On the other side of the coin, it explains strong downward pressure on growth, given that local government debt finances much of infrastructure investment."
China's economy grew 7.4 percent in the three months ended March 31, the weakest pace in six quarters. Analysts forecast expansion of 7.4 percent this year, based on the median estimate of 53 respondents in a Bloomberg News survey conducted from June 19 to June 24, up from a 7.3 percent projection in May.
Manufacturing Gauge
Several reports this month suggest the economy is stabilizing. A manufacturing gauge from HSBC Holdings Plc and Markit Economics rose to a seven-month high this month, based on a preliminary reading on June 23. Gains in industrial production and retail sales accelerated in May and exports rose a more-than-estimated 7 percent from a year earlier.
The audit office also found fraud in China's affordable-housing developments, saying 7.8 billion yuan was misused across 237 projects.
In one example, Xinxiang Investment Group Co., a local-government financing vehicle in central Henan province, falsified a shantytown redevelopment plan to get approval to sell 900 million yuan in bonds and then used 770 million yuan of the proceeds for tourism development and providing loans to other entities, according to the auditor.
Government subsidies worth 268 million yuan from northeastern Liaoning province and Dalian city that were meant to support two companies' acquisitions of overseas technology firms were used to buy 14 French vineyards, the auditor said.
Las Vegas
China Geological Survey officials spent three days in Las Vegas during a trip to North America last year, rather than studying shale gas technologies in Canada as they had claimed, according to audit results of the land ministry's 2013 budget, which were posted on the audit office's website today.
The Ministry of Finance will closely monitor risks in local government debt and halt any illegal borrowing by local authorities "decisively," Finance Minister Lou Jiwei told legislators at the NPC meeting, according to a statement on the ministry's website.
China will focus on local government debt, shadow banking and real estate in monitoring financial risks, People's Bank of China Deputy Governor Liu Shiyu told lawmakers, according to a China National Radio report yesterday. The economy is operating in a reasonable range and the government will prevent systemic financial risks, Liu said in a speech posted yesterday on the NPC's website.
— With assistance by Dingmin Zhang, and Xin Zhou
Before it's here, it's on the Bloomberg Terminal.
LEARN MORE