Business at Odds With Obama Over Russia Sanctions Threat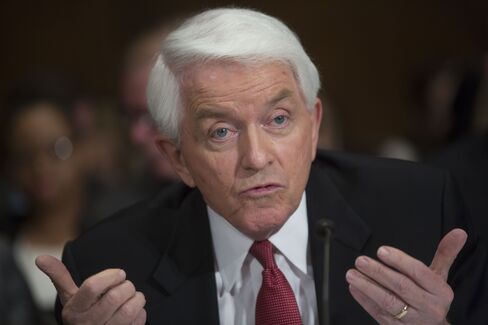 Two top U.S. business lobbies are preparing to publicly break with President Barack Obama over the prospects of more sanctions against Russia after months of quietly raising their objections with the White House.
The U.S. Chamber of Commerce and National Association of Manufacturers plan to run newspaper advertisements June 26 in the New York Times, Wall Street Journal and Washington Post, warning that more Russia sanctions risk harming U.S. workers and businesses, said a person familiar with the plans, who asked not to be identified to discuss private deliberations.
U.S. and European Union leaders have told Russia that it risks a new round of sanctions on sectors of its economy unless it takes steps to de-escalate the crisis in Ukraine. German Chancellor Angela Merkel told members of her party yesterday that sanctions designed to hit Russia's $2 trillion economy are on the agenda for a June 26-27 meeting of EU leaders.
Russian President Vladimir Putin tried to counter building momentum for sanctions. He asked Russian lawmakers to revoke his authority to use force in Ukraine and flew to Vienna today to highlight a deal between Russia gas exporter Gazprom OAO and OMV AG of Austria to build a natural gas pipeline.
The business associations' advertisements assert that "the only effect" of additional sanctions would be "to bar U.S. companies from foreign markets and cede business opportunities to firms from other countries," according to a copy provided by the person familiar with the plans.
Joint Statement
The ads, written as a joint statement from Jay Timmons and Thomas Donohue, respectively the presidents of the manufacturers association and the chamber, don't name Obama. They instead address actions under consideration by "some U.S. policymakers."
Sally-Shannon Birkel, a spokeswoman for the chamber, declined to comment. Representatives of the manufacturers association didn't immediately respond to requests for comment about the ad.
Laura Lucas Magnuson, a White House National Security Council spokeswoman, said in an e-mail that the administration has had "frequent conversations with business leaders on this issue since the beginning of the crisis to understand their concerns." The U.S. can't proceed with "business as usual," she said.
Putin Call
White House press secretary Josh Earnest, asked about Putin's statements about the use-of-force authority, said today that steps by Russia to end support for separatists and move its troops and equipment from Ukraine's border "would make sanctions, additional sanctions, less likely."
Obama told Putin in a telephone call yesterday that the U.S. wants to see action rather than promises, Earnest said.
The ads draw a parallel with the unpopular grain embargo that President Jimmy Carter imposed on the Soviet Union following its invasion of Afghanistan, a step that was later reversed by President Ronald Reagan.
A trade association official, who asked for anonymity because the objections haven't been raised publicly, said U.S. companies fear that even temporary, targeted sanctions would do long-lasting damage to their export markets in Russia by poisoning relations with Russian customers and raising the cost of future financing as global banks reassess the political risk associated with exports to Russia.
The official said sanctions targeted at even a limited group of large Russian banks would damage export markets for U.S. companies by slowing the Russian economy and making U.S. goods more expensive as the value of the Russian ruble declines.
Potential restrictions on technology transfer would complicate exports to Russia and particularly affect U.S. energy companies that do business in Russia, said one person familiar with discussions.
Private Discussions
Business representatives have sounded warnings for months in private discussions with administration officials including White House senior adviser Valerie Jarrett, Treasury Secretary Jack Lew and Commerce Secretary Penny Pritzker, said the person familiar with the effort.
The U.S. and EU so far have levied penalties against Russian businessmen and companies linked to Putin's inner circle, as well Ukrainian supporters of the separatists. Putin has threatened to retaliate against U.S. and European companies if broader sanctions are imposed.
European Hesitation
There also is hesitation in Europe, with the U.K. concerned about financial services, France about military sales, Italy about luxury goods and Germany about overall trade with Russia.
U.S. officials say the sanctions now in place have fueled a record $60 billion capital outflow in the first quarter of this year, as well as losses in Russia's stock market and currency. Russia's Micex Index increased 2.2 percent to 1,518.83 by the close in Moscow, the highest since Oct. 22, after Putin sought cancellation of the use of force authority.
The Ukrainian government and its U.S. and EU allies say Russia is fueling conflict in the nation by allowing weapons including tanks and anti-aircraft missiles -- like the one that downed a military plane June 14, killing 49 soldiers -- to flow to rebels into Ukraine across its border. They also say Russia has provided manpower and other support to the rebels, who sent representatives to Moscow last month to seek funding.
Before it's here, it's on the Bloomberg Terminal.
LEARN MORE