BMW M235i Approaches Tesla Score in Consumer Reports Test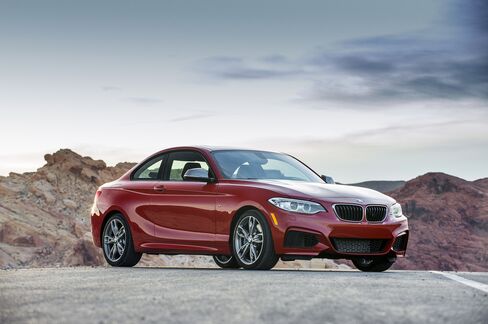 Bayerische Motoren Werke AG's M235i high-performance car has secured the German automaker its highest-ever score from Consumer Reports, beating the costlier Porsche 911 and Chevrolet Corvette in road-test reviews.
The M235i, which earned 98 out of a possible 100 points, scored better that the discontinued BMW 135i, making it the Munich-based carmaker's highest-rated vehicle of all time, according to Consumer Reports. That puts BMW close to the score of 99 Tesla Motors Inc. received from the magazine last year for its electric Model S.
As road-tested, the M235i had a price tag of $50,400, or about $60,000 less than the Porsche 911 Carrera S from Volkswagen AG, which received a score of 95. The BMW is $23,000 cheaper than General Motors Co.'s Chevrolet Corvette Stingray LT3, which scored a 92.
The M235i has a "classic BMW mold" and offers "tenacious cornering" on the track, while embracing the company's recent focus on comfort and luxury, the Yonkers, New York-based magazine said.
"This really is a totally dual-purpose car," Jon Linkov, Consumer Reports deputy cars editor, said in an interview. "This is a car you could drive to work every day of the week without it killing you. And then you could go take it to the track on the weekend."
BMW along with Daimler AG Mercedes-Benz brand are among luxury carmakers expanding with lower-cost models as they look to capture new buyers. BMW, which also shifted away from its "Ultimate Driving Machine" slogan in recent years, is borrowing from its old marketing approach with the M235i, Consumer Reports said.
'Inspiring, Sporty'
"It seems like it has almost a direct lineage," to BMWs, Linkov said. "This is just an inspiring, sporty car, plain and simple."
While the Corvette and 911 both "pack more punch" than the M235i on the road, the latter car comes relatively close and provides more comfort.
Consumer Reports evaluates cars on how well they drive, their interior-finish quality, safety and reliability.
The 911 and Corvette, both recently redesigned, had "excellent and near-identical acceleration and braking results," according to the magazine's reviewers. The 911 edged out the Corvette in its higher maximum speed and handling.
The Corvette has "quick reflexes" though the vehicle is more "about power than grace," the magazine said.
None of the three vehicles received a recommendation from Consumer Reports because the M235i and Corvette are too new for the reviewers to have reliability data, while the 911 is listed as having below average reliability.
Tesla Plans
All three models fell short of the mark set by Tesla's Model S. That score matched the one previously set in 2007 by the Lexus LS460L from Toyota Motor Corp.
Tesla's founder Elon Musk is scouting sites for a "gigafactory" to supply low-cost lithium-ion batteries both to boost production of his electric vehicles and for home-power storage. The company plans to boost deliveries of its Model S sedan that's priced from about $71,000 by more than 56 percent this year.
The results of the latest test are online at www.consumerreports.com and in the magazine's August issue, on the newsstands July 1.
Before it's here, it's on the Bloomberg Terminal.
LEARN MORE