South Korean Soldier Captured After Shooting Himself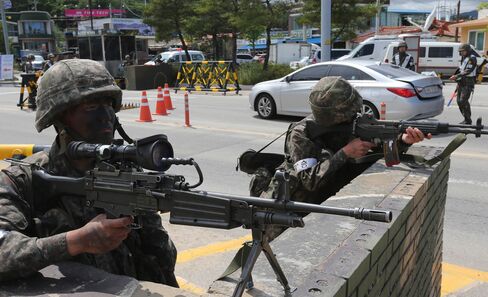 A South Korean soldier besieged by troops after gunning down five of his compatriots shot himself in the chest and was captured, a Defense Ministry official said.
The soldier was in a hospital in the border county of Goseong after a day long standoff with Korean troops, Defense Ministry spokesman Kim Min Seok said at a televised briefing in Seoul. The soldier had been surrounded by hundreds of troops, with military personnel trying to convince him to surrender when he tried to take his own life, Kim said.
The 22-year-old soldier fled with a grenade, a gun and about 60 rounds of ammunition after opening fire on his colleagues on June 21 at a border outpost at Goseong, east of Seoul. After the soldier was found last night and cornered, nearby residents were evacuated and an exchange of shots near an elementary school left one person wounded, YTN television reported.
The motive for the shootings remains unknown. The soldier was on a list of those requiring special attention as he had struggled to adapt to military life, Yonhap news agency reported, citing Army headquarters.
'Special Attention'
"There are many soldiers who are categorized as needing 'special attention.' " Kim said at an earlier briefing. "We have on average 7,000 soldiers a year who are categorized unfit and discharged for this problem."
South Korean men are required by law to do military service for almost two years. The soldier who carried out the shooting was to be discharged in September. North Korean and South Korean forces face each other over one of the world's most heavily armed borders after the 1950-53 Korean War ended without a peace treaty.
There have been other incidents of violence within the ranks of the Korean military. In 2005, a South Korean Army private set off a hand grenade and fired at a unit near the border with the North, killing eight sleeping colleagues and injuring two others, according to the Yonhap report. In 2011, a Marine Corps corporal went on a shooting spree at a unit on Ganghwa Island, west of Seoul, killing four troops and injuring one, it said.