Shire's Ornskov Touts Resume in Bid to Fend Off AbbVie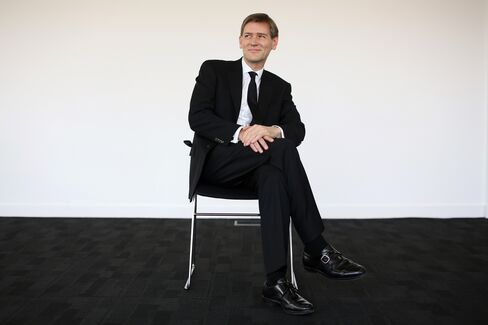 In 14 months as Shire Plc's chief executive officer, Flemming Ornskov has cut costs, improved profit and made a series of acquisitions, establishing the company as a potential leader in rare disease treatments.
Imagine what he can do with another six years.
That's the message Ornskov offered yesterday in saying why his board and the company's investors should leave Shire's day-to-day management to him instead of handing it over to AbbVie Inc., which has bid to buy it.
Ornskov, 56, joined Shire as CEO at the start of May last year. He now finds himself fending off the unsolicited $46.5 billion cash-and-stock offer from North Chicago, Illinois-based AbbVie. His previous achievements include bringing the blockbuster eye drug Lucentis to Novartis AG, he said, and being part of the team at Bayer AG that introduced Eylea, another eye drug.
"The list goes on and on," Ornskov said in an interview in London yesterday. "I would imagine I've earned some credibility with the board in terms of them having a foundation of faith in my ability to deliver."
Ornskov, a Dane who trained as a medical doctor, is counting on investors looking past the short-term gain of selling to AbbVie. He said yesterday that Shire's sales will double to $10 billion by 2020, spurred by treatments for rare diseases and by Lifitegrast, the experimental treatment for dry eye disease that Shire gained by buying SARcode Bioscience Inc.
Career History
Ornskov laid out the targets in a presentation yesterday to convince investors why the company was right to reject three offers from AbbVie. His pitch also includes his career history - - two years as chief marketing officer at Bayer, following roles at Bausch & Lomb Inc., Merck & Co. and Novartis. At Shire his other deals included the purchase of ViroPharma Inc. for about $4.2 billion. That added the treatment Cinryze for a rare swelling disease.
"So far, very impressive," said Ronny Gal, an analyst at Sanford Bernstein & Co. in New York. "First, he took an axe to the cost structure." Also, among the acquisitions he's made since becoming CEO, "none of them were stupid. They're all interesting assets."
AbbVie is considering raising its bid again and is weighing whether to present its case directly to Shire's shareholders, said people with knowledge of the matter who asked not to be named because the preparations are private.
Shire shares rose as much as 2.3 percent and traded at 43.50 pounds, up 1.1 percent, at 8:50 a.m. in London today. The stock surged to a record last week when AbbVie's interest became public. The last offer from AbbVie valued the drugmaker at about 46.11 pounds a share, according to Shire. The stock has doubled since Ornskov took over, in part on speculation the company would be acquired.
Takeover Speculation
Ornskov said he compares Shire with companies such as Gilead Sciences Inc., Celgene Corp. and Biogen Idec Inc. that have experienced significant growth in recent years and been the subject of takeover speculation.
"Would their shareholders have been better off at the time when these companies were single-digit or low double-digit market cap?" he said. "Would their shareholders have been better off selling out?" Gilead has a market value of $124 billion while Celgene is valued at $68.5 billion and Biogen is worth $74.4 billion.
Ornskov hasn't yet had a chance to make his mark on Shire, said Peter Welford, an analyst at Jefferies LLC in London. The company is one shaped largely by Ornskov's predecessor, Angus Russell, who was CEO from 2008 until 2013 and chief financial officer for about nine years before that. As CFO, Russell oversaw the $1.6 billion purchase of Transkaryotic Therapies Inc., an unprofitable company with more debt than sales that became the foundation of Shire's rare disease business.
Ideal World
"In an ideal world he would like to have the opportunity to execute on what he wants to do with Shire before he moves on," Welford said by phone. "In the end he's a CEO with shareholders. I don't think it would do his career any harm if he was presiding over Shire when a bid for whatever came out and Shire were to be acquired."
Shares of Cubist Pharmaceuticals Inc. and BioMarin Pharmaceutical Inc. have climbed since AbbVie's offer was disclosed, in speculation Shire may buy one of those companies as a defensive strategy, Tim Lugo, an analyst at William Blair & Co. in Chicago, wrote in a report. While doing deals is part of Shire's strategy, Ornskov said he won't rush into anything.
"If you get to know me, you will see I am not a rush person," he said during the interview, adding that past work in intensive care helped him learn fast how to "focus on the essential" in a high-pressure environment.
Ornskov said he's spent the last few weeks learning about the rules governing takeovers in the U.K., and what he can and can't do under the law. While the company is domiciled for tax purposes in Dublin, it's listed on the London Stock Exchange. He's briefed the board and attended one meeting with AbbVie's CEO, Richard Gonzalez.
"But other than that, I've had time to watch the World Cup, and I manage the company," said Ornskov, a soccer fan who congratulated a French analyst on the conference call on the performance of France's team's in the tournament. "Those are really the most important things right now."
Before it's here, it's on the Bloomberg Terminal.
LEARN MORE