Obama Targets 'Waitress Moms' Votes With Families Summit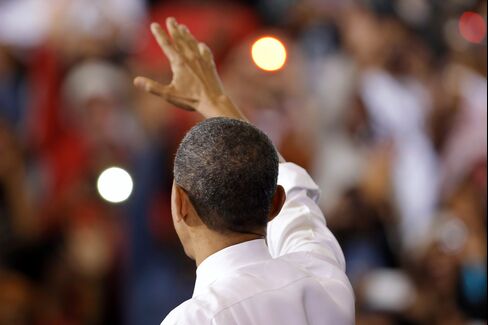 President Barack Obama pressed for workplace changes to benefit families with children, saying the U.S. is trailing other advanced countries and must compete with more job flexibility and a higher minimum wage.
"Many women can't even get a paid day off to give birth," he said today at a White House-sponsored conference in Washington. "That's a pretty low bar. You would think that we would be able to take care of" that, he said.
Obama was joined by Vice President Joe Biden and first lady Michelle Obama at the White House Summit on Working Families. The event, which had the atmosphere of a campaign rally as he spoke, also sought to highlight differences with Republicans before the midterm elections.
"You're not alone," Obama said in remarks aimed a Americans who feel constrained by minimum wage rates, a lack of affordable child care or inflexible hours. These problems "cannot just be fixed by working harder or being an even better parent," the president said. "All too often they are the result of outdated policies and old ways of thinking."
He also called for paid maternity leave. "If France can figure this out, we can figure it out," he said.
Participants in today's event included business leaders such as Lloyd Blankfein, chief executive officer and chairman of Goldman Sachs Group Inc., Alex Gorsky, CEO of Johnson & Johnson, and Randy Garutti, chief executive of Shake Shack, the New York-based restaurant chain.
Flexible Workplaces
The White House argues that a flexible workplace for parents increases productivity and reduces turnover, helping the U.S. compete against rising economic rivals such as India, China and Brazil.
Biden underscored the inequality that families face, whether in the civilian world or in the military, with its deployments and moves. "We can't equalize it all but we sure as heck can do a lot better," he said.
Women were a primary target of the summit, sponsored by the U.S. Department of Labor and the Center for American Progress, a policy research group aligned with the White House. They also are a constituency that Democrats are seeking to get into voting booths in November.
Celinda Lake, president of Lake Research Partners, a polling firm in New York that works with Democratic candidates and organizations, said working women are a key swing vote. "Over 50 percent of the undecided voters in most races right now are women. They tend to be older and less educated."
Lake identified that voter as the "waitress mom," a 50-year-old women without a college degree who is supporting a family.
Republican Response
U.S. House Speaker John Boehner, an Ohio Republican, said in a statement that while the summit's focus is "on creating a 21st century workplace that works for all Americans," the "trouble is, too many middle-class families aren't working at all. And those that are lucky enough to have a job are barely getting by with stagnant wages and higher costs on nearly everything."
Senate Republicans support more flexibility for private-sector workers similar to the voluntary flex time that federal employees have, Senator Republican Leader Mitch McConnell said in a statement.
A report from Obama's economic advisers released in connection with the summit said women are still more likely to work in low-wage jobs than men and are more likely to be paid the minimum wage. The earnings of married women account for 44 percent of a family's wages last year, compared with 37 percent in the 1970s. More than 40 percent of mothers are the sole or primary income source for their families.
Female Breadwinners
The pay gap between men and women is important because women are "increasingly breadwinners in families," according to the report.
Women view Obama more favorably than men, according to a Bloomberg National Poll conducted June 6-9. Among women, 49 percent said they have a favorable view of Obama compared with 39 percent of men. When Obama was re-elected in 2012, 55 percent of female voters backed him compared with 45 percent of men, according to a CNN exit poll.
PricewaterhouseCoopers LLP, the accounting and business advisory firm, gives full-and-part time workers an unprescribed number of sick days for personal use, or for an ill child, spouse, same-sex partner or parent, according to a White House fact sheet.
The White House points to Google Inc., which doubled paid maternity leave, and computer network provider Cisco Systems Inc., which says 99 percent of its employees use flexible work practices, as examples of companies it wants others to mimic.
"Something for employers to take note of is that more than half of workers say they'd be more productive if they had more flexibility," Stevenson said.
A labor union-backed group planned to protest near today's event, calling on Obama to issue an executive order giving preference for government contracts to employers who offer benefits and better pay. Women from more than 50 companies plan to walk off federal contractor jobs including food service to attend, organizers said.
Before it's here, it's on the Bloomberg Terminal.
LEARN MORE