Gold Euphoria Won't Last With Yellen's Rally Fading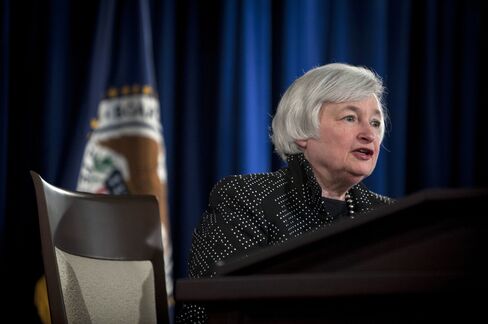 After the biggest gold slump in three decades left investors heartbroken, they're following Taylor Swift's advice and never, ever getting back together.
Janet Yellen, the one person able to make the lovers reconcile, did her best. Prices surged the most since September the day after the Fed chair signaled last week that low interest rates are here to stay. Traders and analysts surveyed by Bloomberg News aren't expecting the euphoria to last. Volatility in futures is near a four-year low, at a time when trading volumes and open interest in Comex contracts are waning.
Prices will average $1,250 an ounce next quarter, about 5 percent less than now, according to the median of 15 estimates. The analysts were surveyed before and after the Fed's June 18 outlook, and the forecast was unchanged. Even after a 28 percent plunge in 2013, the bears are emboldened by this year's records in equity markets, and gold assets in exchange-traded products have shrunk to the smallest since 2009.
"The surge in gold can't sustain itself," Donald Selkin, who helps manage about $3 billion of assets as chief market strategist at National Securities Corp. in New York, said June 20. "It was a temporary spike because of a confluence of events: Iraq and Yellen. People will be looking at other areas for excitement. Holdings are down, so people are leaving gold in search of something better."
Price Outlook
Gold for immediate delivery rose 9.8 percent to $1,319.52 an ounce in London this year, according to Bloomberg generic pricing. Bullion advanced on demand for haven assets as fighting erupted in Ukraine and Iraq.
Prices have slumped from a record $1,921.17 reached in September 2011. The Standard & Poor's GSCI gauge of 24 commodities gained 5.5 percent since the end of December, while the MSCI All-Country World Index of equities rose 4.9 percent. The Bloomberg U.S. Treasury Bond Index added 2.7 percent.
The median of 15 analyst and trader estimates compiled by Bloomberg by June 18 showed gold will average $1,240 in the fourth quarter and $1,300 in the first three months of next year. By June 20, they were predicting $1,225 and $1,270 for the periods, not swayed by Yellen's outlook for low borrowing costs and echoing the sentiment of Swift's Grammy-nominated pop hit, "We Are Never Ever Getting Back Together."
"You've had a bit of safe-haven demand and a bit of inflation-hedge demand," Georgette Boele, a precious-metals analyst at ABN Amro Group NV in Amsterdam, said June 20. "The view doesn't change on gold, because this is temporary. The other drivers have not changed."
Volume Drops
Daily London trading volumes that averaged about 18.3 million ounces for the four months through April were about 16 percent less than a year earlier, and the least for the period since 2010, according to the London Bullion Market Association.
Open interest, or the aggregate number of Comex futures contracts yet to be closed, liquidated or delivered, was at the lowest since May 2009 in April. Average daily volumes this year are about 24 percent lower than in 2013 and 60-day historical volatility fell on June 17 to the lowest since October 2010.
While the Fed said June 18 it sees interest rates staying low after it ends bond buying, the bank trimmed purchases for a fifth consecutive meeting, to $35 billion. Rising home and equity prices and an improving global economy should help stoke above-trend growth in the U.S., Yellen told reporters that day. Bullion jumped 70 percent from December 2008 to June 2011 as the central bank bought debt.
Geopolitical Risk
Investors sold 49.9 metric tons from gold-backed ETPs this year, compared with a record 869.1 tons that wiped more than $73 billion off their value in 2013.
Geopolitical concerns will support prices, said Jim Russell, who helps oversee $120 billion as a senior equity-strategist for U.S. Bank Wealth Management in Cincinnati. Bullion reached a six-month high in March as Russia annexed the Crimean peninsula. U.S. Secretary of State John Kerry said in Baghdad yesterday that President Barack Obama is gathering the information he'd need if he decides to order airstrikes to counter the advance of Sunni militants in Iraq.
"I am confident in gold because Yellen put to rest concerns about interest rates rising," Adrian Day, president of Adrian Day Asset Management in Annapolis, Maryland, said yesterday. "History tells us that the geopolitical situation gives gold short-term boosts. If we see dramatic changes in Iraq, then there will be bigger changes in the price of gold."
Mint Sales
American buying is slowing. Sales of American Eagle gold coins by the U.S. Mint totaled 252,500 ounces this year, 60 percent less than in the first six months of last year and the lowest for the period since 2008, data on its website show.
Holdings in global ETPs fell to 1,712.9 tons on June 20, the lowest since October 2009, data compiled by Bloomberg show. The selling compares with average annual purchases of 291 tons in the nine years through 2012. Hedge funds are holding a net-long position of 66,572 futures and options contracts, U.S. government data show. That's down 52 percent since this year's peak in March.
"People are not focusing on gold," John Toohey, the San Antonio, Texas-based vice president of equity investments at USAA Investments, which manages about $62 billion of assets in mutual funds, said June 19. "Barring temporary events like Ukraine or Iraq we don't see any long-term fundamental reasons out there that could push gold higher."
Before it's here, it's on the Bloomberg Terminal.
LEARN MORE