China Beige Book Shows Economy Slowing on Investment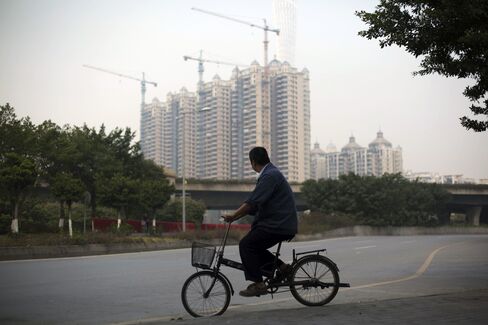 China's economic slowdown deepened this quarter, as capital spending showed weakness and fewer companies applied for credit, a private survey showed.
Half of businesses reported higher investment, the smallest proportion and the sharpest drop since the survey began 10 quarters ago, according to the China Beige Book, a report published quarterly by New York-based China Beige Book International. The slowdown hurt hiring and wages, and interest rates offered by shadow lenders fell below levels offered by banks, it said.
"Since investment has been the engine of the economy for the past seven years, this weakness has sweeping effects on sectors, regions and gauges of firm performance," Leland Miller, president of China Beige Book International, said in a statement with Craig Charney, director of research and polling. "Overinvestment has been an addiction and withdrawal symptoms will not be pretty."
The report adds to a picture of slowing economic expansion that may prompt Premier Li Keqiang to boost stimulus measures to meet his 2014 growth target of about 7.5 percent. Li last week said he "promised" China won't have a hard landing and that the government is making adjustments to support expansion.
China's economy will grow 7.4 percent in the April-June period from a year earlier, based on the median estimate in a Bloomberg News survey conducted in May. That would be the same pace as the first three months, which was the weakest in six quarters. Gross domestic product rose 7.7 percent in 2013 and 2012, down from an average 10.6 percent a year in the previous decade.
Property 'Pummeled'
Fewer companies than in the previous survey in March said they expect to increase investment in the next quarter and the proportion that anticipate cutting spending increased, according to the report.
For the first time since the China Beige Book survey began in 2012, no sector showed an improvement compared with the previous quarter, according to today's report. Transportation, mining and retail slowed and services weakened more sharply.
The survey showed "dramatic differences" between parts of the real estate industry, with commercial and residential realty "pummeled while construction held up fairly well," China Beige Book said. Fewer companies in commercial and residential realty reported revenue gains and prices were flat or falling, while commercial construction saw steady price and volume growth and starts "perked up," according to the report.
Credit Squeeze
The number of businesses applying for bank loans dropped and fewer bankers reported increased lending to businesses in the quarter, confirming companies' reports of a credit squeeze, China Beige Book said.
The average interest rate charged by shadow lenders fell below that of banks as slowing investment hit demand for credit, the first time that's happened on a national level since the survey started. The average non-bank lending rate for respondents dropped 208 basis points from the previous quarter to 6.3 percent, while the average bank rate rose 51 basis points to 6.8 percent, according to the report.
Services took the "biggest hit" in the quarter's slowdown, the survey showed. The proportion of respondents reporting revenue growth dropped to 44 percent, down 11 percentage points from the previous quarter and 10 points from a year ago.
The China Beige Book report, modeled on the U.S. Federal Reserve's Beige Book business survey, was compiled from 2,043 10-minute interviews conducted from May 12 to June 3 through an online survey plus 32 face-to-face 20-minute interviews conducted June 9 to 19.
The previous survey showed the world's second-largest economy moderated in the first quarter, with a weaker retail performance the principal force behind the trend. The China Beige Book report for October-to-December last year indicated a strengthening economy, compared with government data showing a slowdown.
— With assistance by Xiaoqing Pi
Before it's here, it's on the Bloomberg Terminal.
LEARN MORE