Australia's Abbott Revives Proposal to Scrap Carbon-Price Levy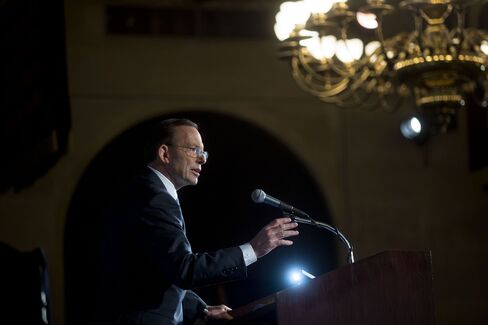 Australia re-introduced a bill today to repeal a carbon-price mechanism brought in by the previous Labor government ahead of a power shift in the Senate, which has previously rejected the levy's removal.
"Repealing the carbon tax will reduce the cost of living, make jobs more secure and improve the competitive position of our country," Prime Minister Tony Abbott told parliament in Canberra today. "Why would anyone be against that?"
The make-up of the upper house Senate will change from July 1 when the Palmer United Party -- led by Clive Palmer -- will hold the balance of power, meaning Abbott will have to negotiate with the mining magnate to pass the laws, which were previously rejected by opposition lawmakers. The government has said that repealing the carbon price will still allow the world's 12th-largest economy to meet its promised 5 percent reduction in emissions by 2020.
Scrapping the carbon price will save the typical household about A$550 ($519) a year through lower electricity prices, Abbott said.
Labor introduced the mechanism "to put power prices up, because that was their way of reducing emissions," Abbott said. "The intention of the new government, of this government, is to put power prices down by axing this toxic tax and using other means to reduce emissions."
A policy to repeal the carbon-price mechanism formed part of the Liberal-National coalition's fight to topple Labor in September's election. Abbott is now attempting to enact laws to replace it with a so-called Direct Action Plan, which consists mainly of taxpayer-funded grants to companies.
Obama Talks
U.S. President Barack Obama discussed climate change with Abbott when they met in the White House on June 12 during his first trip to the U.S. as Prime Minister. Obama is seeking state-by-state limitations on carbon-dioxide emissions to limit the effects of man-made global warming and has proposed cutting power-plant emissions.
Obama's bid to pressure nations including India and China to help form a world-wide agreement to combat climate change isn't being supported by Abbott, who is hosting Group of 20 leaders in November. Australia has the highest per-capita fossil fuel emissions among industrial countries.
Abbott is staking his government's popularity on the push for a budget surplus of 1 percent of Australian gross domestic product within a decade.
The opposition Labor party leads the coalition government on the two-party preferred measure, 53 percent to 47 percent, according to a Nielsen poll of 1,400 voters conducted June 19-21 and published in The Age today. The 6 percentage-point margin is down from a 12-point gap in a poll conducted May 15-17.