World Cup Tropical Heat Leads Brazil Judge to Order Water Breaks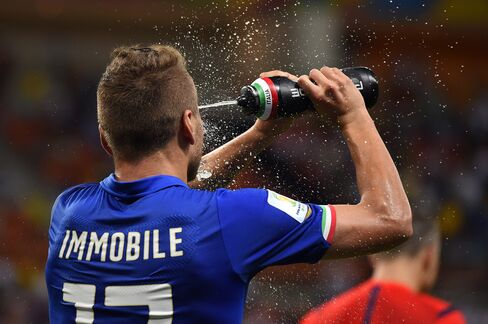 June 20 (Bloomberg) -- World Cup soccer players must be granted water breaks when temperatures soar in compliance with FIFA's regulations, a Brazilian judge said today.
Rogerio Neiva Pinheiro, a judge in Brasilia's labor court, said FIFA, soccer's governing body, must prove it's complying with regulations or face a fine of 200,000 reais ($90,000), according to a statement posted on the judiciary's website. The preliminary ruling applies to games played anywhere in Brazil.
"There is nothing that ensures FIFA is complying with its own rule," the judge said in the statement.
FIFA spokeswoman Delia Fischer said by phone today the decision confirmed the organization's regulations and that "for sure" there would be breaks if temperatures exceed 32-degrees Celsius (90-degrees Fahrenheit).
FIFA uses as its indicator the Wet Bulb Globe Temperature - - a composite measurement used to estimate the effect of temperature, humidity and wind speed. Should the indicator exceed 32 degrees, breaks would take place in the 30th and 75th minute of the matches, Michel D'Hooghe, head of FIFA medical committee, said in an interview before the tournament started June 12.
"We have done all scientific work necessary to avoid problems with heat," he said. "I think it may be just two, three or four occasions we'll need to do the break but even if it's one occasion we'll do it."
Judge Pinheiro rejected a request by prosecutors to lower the reference temperature to 30 degrees, according to the judiciary statement.
Several players have complained about the heat during the monthlong soccer tournament that began on June 12.
"At times it felt like having hallucinations due to the heat," Italy's Claudio Marchisio said after facing England in the Amazon state capital Manaus. England coach Roy Hodgson said that a few of the players suffered cramps.
FIFA is debating whether to switch games of the 2022 World Cup in Qatar to winter to avoid the heat.
To contact the reporters on this story: Raymond Colitt in Brasilia Newsroom at rcolitt@bloomberg.net; Tariq Panja in Rio de Janeiro at tpanja@bloomberg.net
To contact the editors responsible for this story: Andre Soliani at asoliani@bloomberg.net Randall Woods, Robert Jameson