Starbucks Raises Prices as Arabica Coffee Costs Increase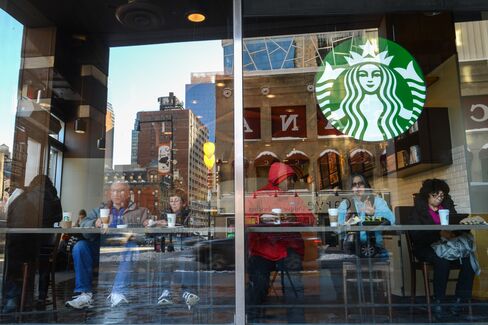 June 20 (Bloomberg) -- Starbucks Corp., the world's largest coffee-shop operator, will raise its U.S. cafe and store prices after drought in Brazil pushed up the cost of coffee.
Cafe prices will rise less than 1 percent, while the price for Starbucks-branded ground and whole-bean coffees sold in grocery, drug and mass retail stores will increase by about 8 percent, on average, Zack Hutson, a spokesman, said in an interview. Starbucks will raise prices starting June 24 in its company-operated cafes and on July 21 in stores.
"We consider many different factors when we make pricing decisions including competitive dynamics and including changes to our overall cost structure," Hutson said. Store costs include commodities, rent, labor and equipment, while packaging and distribution costs affect retail, he said.
Starbucks, along with other coffee sellers, is facing higher costs for Arabica beans as a drought has hurt yields in Brazil, the world's top producer. Dunkin' Brands Group Inc., owner of the Dunkin' Donuts and Baskin-Robbins chains, earlier this month said it was recommending a modest price increase to its franchisees due to higher coffee costs.
Medium and large-sized brewed coffee will increase by about 10 cents to 15 cents in most of Starbucks's U.S. cafes, while small and large-sized lattes and mochas will be 15 cents to 20 cents more expensive in some of its outlets. Food and iced-coffee frappuccino prices won't change.
In stores, the suggested retail price for a 12-ounce bag of Starbucks branded coffee will rise to $9.99 from $8.99. Keurig K-Cup, Via instant coffee and Seattle's Best coffee prices won't change.
Beans Stockpile
Coffee prices have jumped 53 percent this year through yesterday. Recently, gains have been pared as U.S. stockpiles of unroasted beans rose in May compared with last year and Guatemala and Costa Rica increase their output.
Starbucks, based in Seattle, last year reduced prices on bagged coffee sold in stores and supermarkets by about 10 percent for its Starbucks brand and 13 percent for Seattle's Best. There are more than 11,600 U.S. Starbucks locations and about 7,100 are operated by the company.
The stock has declined 1.5 percent this year to $77.23 through yesterday compared with a 6 percent gain for the Standard & Poor's 500 Index.
To contact the reporter on this story: Leslie Patton in Chicago at lpatton5@bloomberg.net
To contact the editors responsible for this story: Nick Turner at nturner7@bloomberg.net Ben Livesey, Stephen West