South Africa Parliament Ejects Malema for Massacre Comments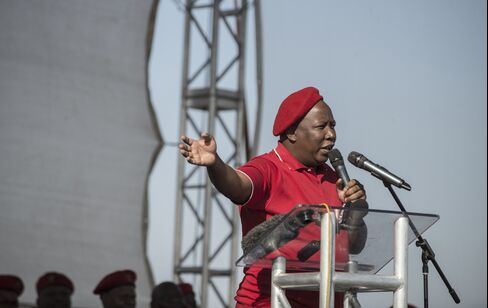 South Africa's Parliament ejected opposition party leader Julius Malema after he refused to withdraw a comment he made accusing the ruling African National Congress of being murderers.
In his maiden speech to lawmakers on June 18, Malema, 33, said the ANC-led government "massacred" mineworkers at Lonmin Plc's Marikana mine two years ago when at least 34 people were killed by police. Thandi Modise, chairwoman of the lower house of Parliament, yesterday asked Malema to withdraw the comment. He refused and walked out with members of his Economic Freedom Fighters party, who were all dressed in red overalls.
Malema was expelled from the ANC in 2012 for insulting senior leaders, including President Jacob Zuma, and bringing the party into disrepute. He formed the EFF last year and won more than 1 million votes in the May 7 election to become the second-biggest opposition group after the Democratic Alliance.
"We are not employed by the ANC and will never listen to the ANC," he told reporters in Cape Town today. "We are not scared of anything. They can expel us. Not even Zuma can tell us how we must conduct our struggle."
Under Parliament's rules, Malema's expulsion was limited to a session late yesterday, and he returned to the chamber today.
The killings in Marikana occurred when police tried to disperse striking mineworkers after 10 people, including police officers and security guards, had died in violence at the mine prior to the shooting.
Marikana Investigated
"When police reduce crime, you come here and say the ANC has reduced crime," Malema told Modise in Parliament yesterday. "When police kill people, you don't want us to come here and say the ANC government has killed people. That is inconsistent."
The Marikana shooting is still under investigation at a commission of inquiry, headed by retired Judge Ian Farlam.
Modise told a parliamentary sitting today that the EFF's conduct was unacceptable and may have to be probed by the legislature's powers and privileges committee.
Malema said Modise was biased and protecting the ANC's interests.
Political parties should use parliamentary debates to explain their policies to voters, Zuma told legislators today.
"We all want a successful South Africa," he said. "We might differ in the routes to reach the destination. Let us actually have a debate that will help us moving forward."
The ANC rejected Malema's comments and said the EFF's conduct makes a mockery of Parliament.
"We believe that he has abused the privilege of parliament by making a reckless and irresponsible statement on a matter that is under consideration by the Farlam Commission," the party said in an e-mailed statement.
About 100 EFF supporters demonstrated in front of Paliament today and draped a statue with a banner reading: "ANC Government Massacred Marikana Miners."
Before it's here, it's on the Bloomberg Terminal.
LEARN MORE