Shire Says AbbVie Offer 'Fundamentally Undervalued' Drugmaker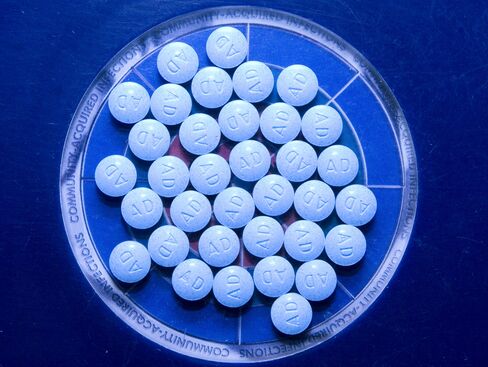 June 20 (Bloomberg) -- Shire Plc said an offer from AbbVie Inc. to buy the drugmaker for as much as 27.3 billion pounds ($46.5 billion) undervalues the Dublin-based company and recommended that shareholders take no action.
The latest of three offers represented a premium of 23 percent to Shire's share price yesterday, the company said today in a statement. Shire shares rose as much as 16 percent and were up 11 percent at 41.50 pounds as of 9:59 a.m. in London. That's below the AbbVie offer.
Shire's board has turned down proposals that began in May and no talks are occurring, AbbVie said late yesterday in a statement. AbbVie made cash-and-stock offers in an effort to branch out beyond its top drug, the arthritis medicine Humira, which generated 57 percent of its 2013 sales, according to data compiled by Bloomberg. Shire sells medicines for attention deficit hyperactivity disorder and rare diseases.
AbbVie "made an indicative approach to Shire with a merger proposal which was rejected by the board of Shire," the North Chicago, Illinois-based company said yesterday. "There can be no certainty that any firm offer will be made. Discussions are no longer ongoing."
To contact the reporter on this story: David Risser in London at drisser@bloomberg.net
To contact the editors responsible for this story: Phil Serafino at pserafino@bloomberg.net Guy Collins