Merkel Says Decisive Days for Putin to Back Off Ukraine Rebels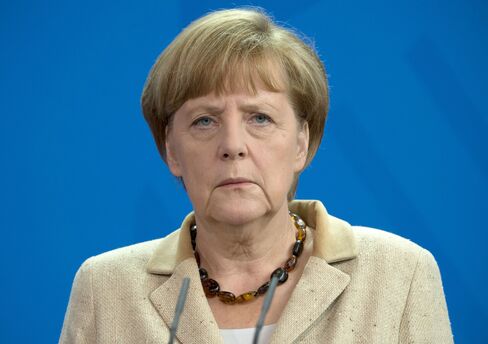 Russia risks further sanctions when European Union leaders meet next week unless it helps end fighting in Ukraine to support an emerging peace plan, German Chancellor Angela Merkel said.
"The days ahead will be very decisive for what we can decide" at the summit on June 26-27, Merkel told reporters in Berlin today. "We expect Russia to respond in a positive and constructive way." While Germany wants to see a cease-fire, "there is planning" for other outcomes as well, she said.
Merkel's comments reflect an effort by EU powers to gain leverage over Russian President Vladimir Putin by using Ukrainian President Petro Poroshenko's planned cease-fire as a trigger for expanded sanctions if Putin doesn't cooperate.
The U.S. and the EU governments have imposed sanctions on people and companies close to Putin, while threatening Russia with unspecified economic sanctions as pro-Moscow separatists clash with Ukrainian forces. EU leaders "will review where we stand" at the talks in Brussels next week, Merkel said today.
Another hint came from U.K. Prime Minister David Cameron, who said yesterday that the EU summit "will also be looking again at this issue of the trigger point for further sanctions should that de-escalation not take place."
As the EU seeks to press Putin, the Russian leader plans to visit Austria on June 24 for the signing of a gas-pipeline deal. Accompanying Putin in Vienna will be officials including Russian Railways Chief Executive Officer Vladimir Yakunin, who is under U.S. sanctions, Kremlin foreign-policy aide Yuri Ushakov said today.
G-7 Threat
Group of Seven leaders refrained on June 4 from imposing additional sanctions on Russia this month, instead pushing for diplomatic efforts to resolve the Ukraine crisis. Leaders, including Merkel, Cameron and President Barack Obama, warned then that "we stand ready to intensify targeted sanctions and to implement significant additional restrictive measures" in the absence of a peaceful settlement.
Russia needs to stop the flow of arms and fighters to eastern Ukraine, Steffen Seibert, Merkel's chief spokesman, said in Berlin. Joint Russian-Ukrainian border patrols would be a way to help verify such actions, he said.
Russia's government "knows that there are clear and specific expectations of what it needs to do," Seibert told reporters. "And it also knows that the Europeans, including the German government, are ready to impose further sanctions if escalation, rather than de-escalation, remains the motto."
The U.S. is "prepared to propose additional targeted measures on Russia if it escalates the situation in Ukraine," Treasury Secretary Jacob J. Lew said in Berlin yesterday.