Israel Keeps Up Pressure on Hamas in Hunt for Abducted Teens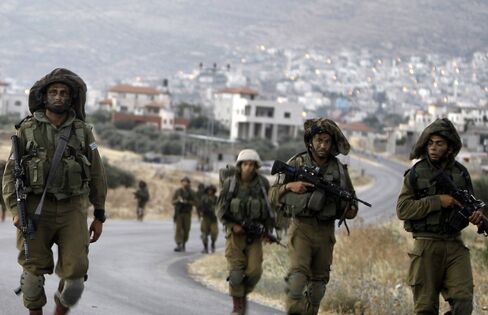 Israeli forces arrested 25 Palestinians and searched 200 locations in the West Bank as it stepped up pressure on the Hamas movement that the government accuses of kidnapping three teenagers.
The detentions took to 330 the number of suspects arrested since the teens disappeared June 12 while hitchhiking in the West Bank, the army said today. It has searched 1,150 sites.
Israel's Defense Minister Moshe Ya'alon, speaking to soldiers today, said the operation will end only when the kidnappers are caught and the boys reached. "Our operating assumption is that the kidnapped boys are alive, unless proven otherwise," he said. Ya'alon said the operation is taking a heavy toll on Hamas civilian infrastructure in the West Bank.
Hamas, which held an Israeli soldier for five years before trading him in 2011 for more than 1,000 imprisoned Palestinians, has neither confirmed nor denied involvement in last week's kidnapping. The group's leaders have advocated kidnappings as a means to free Palestinian prisoners, whose number currently tops 5,000, according to the prisons service.
Hamas is classified as a terrorist organization by Israel, the U.S., and European Union. It joined a Palestinian unity government June 2 with the rival Fatah faction of Palestinian President Mahmoud Abbas, which controls parts of the West Bank. Israel is urging Abbas to break up the partnership.
'Gates of Hell'
At a press conference in Gaza City, Hamas spokesman Sami Abu Zuhri said the organization's fighters will retaliate and warned Israel it risks opening "the gates of hell."
About 240 of those arrested are operatives of Hamas, which controls the Gaza Strip, according to an e-mailed statement from the military today.
Two rockets were launched from the Gaza Strip into Southern Israel last night. One hit an open area and the other was intercepted by the Iron Dome missile defense system, the army said in a statement today. In response, the Israeli airforce hit targets in the Gaza Strip.
A Palestinian teenager was killed in clashes with Israeli forces today and another died from injuries, Ynet, an Israeli news website said, citing Palestinians it didn't identify. An Israeli army spokesman had no immediate comment on the second report but said the army is looking into the first one.
Tracing Boys
Israel shut down 10 Hamas institutions in the West Bank that the military said are used to recruit and pay militants. Ya'alon signed an order banning the charity organization Islamic Relief Worldwide, which he said was linked to Hamas, from operating or transferring funds, according to an e-mailed statement.
Prime Minister Benjamin Netanyahu met with the families of the kidnapped teenagers today. Tracing the boys "is the central aim of our operational and intelligence activities," Netanyahu said, according to an e-mailed statement from his office today.
Abbas, who decided to renew an alliance with Hamas as peace talks with Israel collapsed two months ago, has condemned the kidnapping, and said his forces are helping Israel search for the teenagers. "The security coordination with the Israelis is for our own benefit, to protect our own people," Abbas said on June 18. "Whoever committed this act wants to destroy us."
Israeli Finance Minister Yair Lapid, in an interview with Channel 2 television today, called Abbas's statement "courageous" and said "this means that they are starting to understand that the unity government of Fatah-Hamas was a mistake."
Lapid, who has been more supportive of peace talks with Palestinians than many members of Netanyahu's government, said that security coordination with the Palestinians "is working and it is significant."