Canada's Dollar Climbs as Inflation Increases; Bonds Fall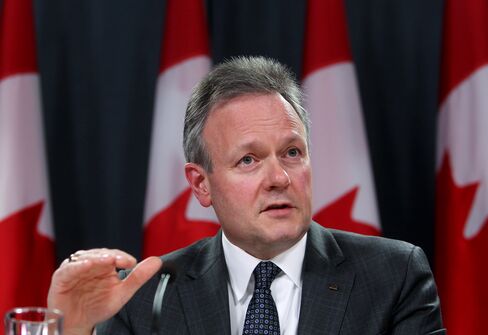 Canada's dollar climbed to the strongest level since January and the nation's bonds fell as a gauge of inflation exceeded the central bank's target for the first time in two years, fueling bets the economy is picking up.
The loonie, as the currency is called, rose against most major counterparts as bankers' acceptance contracts signaled investors were boosting wagers on higher interest rates. The currency fell to the weakest level since 2009 in March after Bank of Canada Governor Stephen Poloz told reporters he couldn't rule out a rate cut if the economy worsened.
"If these numbers persist, you can't deny it's there, and then maybe you have to change your rhetoric a little bit," Darcy Browne, managing director of currencies at Canadian Imperial Bank of Commerce, said of inflation by phone from Toronto. "While there's a threat of hiking, the Canadian dollar is going to strengthen."
The loonie, nicknamed for the image of the aquatic bird on the C$1 coin, appreciated 0.6 percent to C$1.0758 per U.S. dollar at 5 p.m. in Toronto. It touched C$1.0752, the strongest since Jan. 7, after weakening on March 20 to C$1.1279. One loonie buys 92.95 U.S. cents. The Canadian dollar gained 0.9 percent this week in its second five-day advance.
The currency is the top performer for the past three months in a basket of 10 developed-market currencies tracked by the Bloomberg Correlation Weighted Index, strengthening 4.5 percent. It has lost 2 percent this year.
Bets Cut
Hedge funds and other large speculators cut wagers on Canada's dollar weakening against the greenback, known as net shorts, to the least in seven months. The difference in the number of bets on a decline in the loonie versus those on a gain was 21,533 as of June 17, the least since Nov. 22, figures from the Washington-based Commodity Futures Trading Commission show. Net shorts numbered 24,108 on June 10.
The Canadian government's two-year note dropped, pushing the yield to as high as 1.15 percent, the most since Jan. 6. Benchmark 10-year bond yields rose as much as seven basis points, or 0.07 percentage point, the most since March 19, to 2.33 percent before trading at 2.29 percent. The 2.5 percent security maturing in June 2024 lost 29 cents to C$101.84.
The loonie strengthened past its 200-day moving average of C$1.0781, a technical signal it may gain more, after a report showed the consumer price index gained 2.3 percent in May from a year earlier. Core CPI, which leaves out eight volatile products including food and energy, increased 1.7 percent, from 1.4 percent the previous month. A separate report showed retail sales rose more than forecast in April.
Inflation Goal
The central bank's goal for inflation is 2 percent. Economists in a Bloomberg survey forecast today's data would show the CPI held at that level, which it reached in April for the first time since April 2012. It last exceeded 2 percent in February 2012.
"The Bank of Canada had communicated all along any uptick in inflation is transitory, it's just energy and food, don't worry about it," said Greg Anderson, head of global foreign exchange strategy at Bank of Montreal, by phone from New York. "Well, here it is, CPI, stripped of energy and food, and it's surging higher. It is untenable, they're going to have to change their forecasts massively."
The central bank kept its benchmark interest rate at 1 percent on June 4, with policy makers reiterating concern that low inflation and weak exports are hindering the nation's economy. Poloz said "the downside risks to the inflation outlook" remain, even after data two weeks earlier showed consumer prices rose at 2 percent.
Neutral View
Since taking over at the Bank of Canada last June, Poloz shifted policy statements from cautioning about the need for interest-rate increases to a neutral view that leaves open the possibility of a cut, increasing pressure on the nation's dollar. Poloz's references to the importance of a weaker currency to support exports and persistent warnings about the threat of low inflation have kept up the pressure.
"The Bank of Canada will replace talking about uncomfortably low inflation with instead talking about uncomfortably weak recovery of the export sector," Bank of Montreal's Anderson said. "That's the only way they can take a little more hawkish stance on rates without having the currency appreciate."
Poloz said March 18 at a press conference that "if the balance of risks were to shift so that the risks on the downside for inflation were increased, then we would need to reconsider" lowering the rate.
The yield on June 2015 bankers' acceptance contracts reached 1.46 percent today, the highest since April 4, suggesting investors are moving up their expected date for the Bank of Canada to begin raising interest rates.
Canadian retail sales increased 1.1 percent to C$41.6 billion ($38.5 billion), Statistics Canada said today in Ottawa. Economists surveyed by Bloomberg News forecast a 0.6 percent increase, based on the median of 19 projections, and the gain exceeded the 1 percent highest forecast.
(An earlier version of the story was corrected to say yields on June 2015 bankers' acceptance contracts reached the highest since April 4.)
Before it's here, it's on the Bloomberg Terminal.
LEARN MORE