Zell's Bridge Buoys Rally in GAP Shares: Corporate Mexico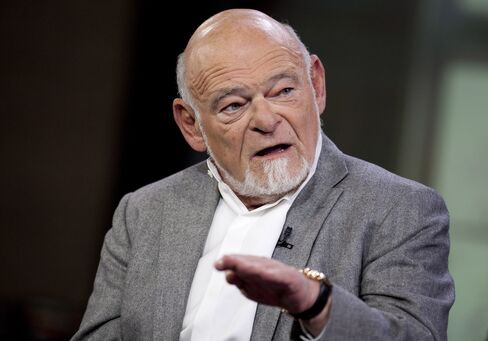 Grupo Aeroportuario del Pacifico SAB is topping the global airport industry as it posts the fastest passenger growth in Mexico and billionaire real estate investor Sam Zell builds a footbridge to lure U.S. passengers to Tijuana.
The airport operator known as GAP has returned 36 percent this year, the most among the 20 biggest global airport services companies by market value, according to data compiled by Bloomberg. GAP is benefiting from Mexico's record air travel and an airline price war that has boosted traffic at Guadalajara and Tijuana, its two biggest hubs.
Zell is betting that the air-traffic rush continues. He's part of a group planning a sealed pedestrian walkway spanning the U.S.-Mexico boundary so travelers can park in San Diego, stroll over a highway that separates the two countries at that point, and walk into the Tijuana airport. After crossing the border with a boarding pass, they can make connections to Mexico City, Puerto Vallarta and Monterrey -- or even Asia.
"We see a lot of potential in the Tijuana airport and we think the market is not giving that the importance it deserves," Santiago Perez Teuffer, a Credit Suisse Group AG analyst with an outperform recommendation on the shares, said in a telephone interview from Mexico City. "We also like GAP's exposure to domestic traffic as more bus passengers switch to air travel."
The Guadalajara, Mexico-based company posted an 11 percent passenger gain during the first five months of the year, surpassing growth at the other two publicly-traded airport operators and Mexico City's government-run airport. Excluding dividends, GAP's advance this year was the third-biggest gain on Mexico's benchmark IPC index of 35 stocks.
Record Passengers
Even after the rally, its share price is only 21 times net income during the last 12 months, a 38 percent discount to the worldwide average, according to data compiled by Bloomberg. Free cash flow reached an all-time high during the first three months of the year.
"The first quarter was strong and the outlook is positive," Miguel Aliaga, GAP's chief of investor relations, said in a telephone interview from Guadalajara.
Mexico's three publicly-traded airport operators profit from the fast-growing air-travel industry with less exposure to the fuel-price volatility and fare competition that airlines contend with. Grupo Aeroportuario del Sureste SAB manages a hub in Cancun and others in the southeast. Grupo Aeroportuario del Centro Norte SAB's airports include Monterrey and Acapulco.
Nationally, the number of fliers climbed 8.3 percent to a record 61.5 million last year before increasing another 9.8 percent in the first four months of 2014, according to the Communications and Transportation Ministry. Adding to the traffic gains was a price war pitting Grupo Aeromexico SAB, the nation's largest airline, against No. 2 carrier Volaris.
Consumer Rebound
While Aeromexico and Volaris have said average fares per mile are starting to rebound, airports will continue to fill with travelers as the Mexican economy strengthens, said Corporativo GBM SAB analyst Bernardo Velez. GAP investors also got a boost this year as the company paid a record amount in dividends and capital returned to shareholders, he said.
"The price war is winding down but we're probably going to see a general improvement in consumer spending," Velez, who has a hold recommendation on GAP, said in a telephone interview from Mexico City. "That will help support traffic growth without the airlines having to be so aggressive in pricing."
More fliers translates into higher sales for the airport operators, which collect landing fees and rents from restaurants and retailers on site. GAP's earnings before interest, taxes, depreciation and amortization amounted to 62 percent of sales last year compared with 19 percent for Aeromexico excluding aircraft leasing costs.
Larrea Dispute
Passenger growth may slow in the second half of the year and expand at an annual pace of about 8 percent, GAP's Aliaga said. GAP may have limited room for further share gains after the recent rally, according to Fernando Abdalla, a JPMorgan Chase & Co. analyst who cut his recommendation to underweight from neutral last month.
Another drag on GAP is the long-running legal battle with Grupo Mexico SAB, the mining and railroad company controlled by billionaire German Larrea. Grupo Mexico sought to take control of the airport operator in 2011 and currently owns a 25 percent stake. GAP says its bylaws bar non-controlling investors from holding more than 10 percent of the shares.
The three-year dispute is currently before the nation's Supreme Court and a ruling may come by October or November, Aliaga said. A change of ownership may not have a drastic effect on GAP's operations since its actions are highly regulated by the Mexican government, he said.
Foot Traffic
Behind the growth in Mexico's air traffic is a shift to planes from luxury bus passengers, Credit Suisse's Perez Teuffer said. Routes connecting Mexico City, Guadalajara and Monterrey - - the nation's three biggest metropolitan areas -- are a particularly ripe market for airlines to win over bus passengers, he said.
In Tijuana, Mexico's sixth-largest metropolitan area and where GAP handled 4.27 million passengers last year, Zell's footbridge could bring in another 600,000 in 2016 as some travelers choose it over San Diego, Perez Teuffer said. GAP has been in touch with Asian airlines about opening flights, in addition to existing Aeromexico flights to China and Japan that stop in Tijuana, Aliaga said.
Estate planning trusts associated with Zell are partial owners of the project, which includes a $60 million investment on the U.S. side and $15 million by GAP. Zell's office referred questions to bridge partnership Otay-Tijuana Venture LLC, which also includes Mexican shareholders in GAP. Otay-Tijuana's owners were not available for comment, according to an e-mailed statement from the company.
While a toll has yet to be determined, the 390-foot walkway will open next year in May, according to GAP.
"All GAP has to do is win the traffic between Mexico and San Diego," Perez Teuffer said. "The effect will be immediate."
Before it's here, it's on the Bloomberg Terminal.
LEARN MORE