Obama Sending 300 Advisers to Help Iraqi Army Battle ISIL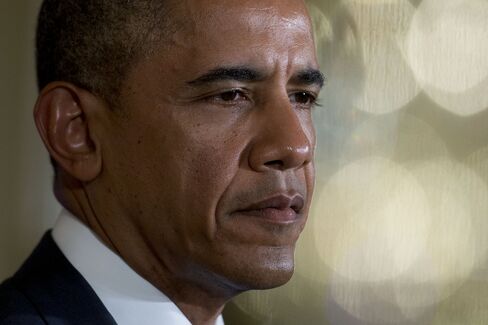 President Barack Obama said he's sending as many as 300 U.S. military advisers to assist the Iraqi army battle an insurgency and is prepared to take additional "targeted" action if necessary.
The advisers will work with the Iraqi army to set up joint operations centers to coordinate intelligence and planning with the Iraqis without engaging in the fighting, he said.
"American forces will not be returning to combat in Iraq," Obama said after meeting with his national security team at the White House.
Obama declined to say whether the U.S. continues to have confidence in Iraqi Prime Minister Nouri al-Maliki, who the administration blames for inflaming sectarian divisions in OPEC's second-largest oil producer.
"The test is before him and other Iraqi leaders," Obama said. "The fate of Iraq hangs in the balance."
The deployment raises the U.S. profile in Iraq three years after Obama ended the combat mission, which began with an invasion to depose Saddam Hussein in 2003. Amid questions about the long-term viability of the central government, Obama is under pressure from some Republicans to intervene aggressively - - and from some Democrats to refrain from a deepening engagement.
A Sunni insurgency led by the Islamic State in Iraq and the Levant, an al-Qaeda breakaway, has overrun the forces of Maliki's Shiite-dominated government in sections of the country. The violence is closing in on the capital, Baghdad, and threatens to spill over Iraq's borders.
U.S. Interests
"It is in our national security interests not to see an all-out civil war inside of Iraq," Obama said, warning that the ISIL jihadists might find a haven in the chaos.
The conflict threatens to draw in regional powers, including Shiite-ruled Iran and Sunni Gulf Arab states. Obama said Iran can play a constructive role if it reaffirms the message that Iraq's government must be "inclusive."
Secretary of State John Kerry will leave this weekend to consult with allies in the Middle East and Europe, Obama said.
ISIL insurgents have seized cities north of Baghdad and engaged in a pitched battle to capture the Baiji oil refinery, the nation's largest. Crude shipments from southern Iraq, where most production is located, has mostly been unaffected by the fighting. Kurds are defending the Kirkuk oilfield in the north. Iraq pumped 3.3 million barrels a day of oil last month.
Oil Rises
As a result of the uncertainty, Brent crude, which is used to price more than half of the world's oil, rose to a nine-month high in London of $115.12 a barrel.
Iraq has asked the U.S. to use airstrikes to against the Sunni fighters. Obama today made no commitment. "We will be prepared to take targeted and precise military action if and when we determine that the situation on the ground requires it," he said.
The U.S. already is conducting reconnaissance flights from an aircraft carrier in the Persian Gulf. Those flights, including drones and piloted aircraft, are capable of conducting around-the-clock coverage of battle zones.
Small Teams
The American advisers, most of whom are already in the region, will be sent as small teams of as few as a dozen special operators working with Iraqi units, according to an administration official, who briefed reporters on condition of anonymity. Their initial task will be conducting an assessment of the Iraqi forces, the official said.
Most of the teams will be based in Baghdad. While they won't be involved in fighting, they will have the right to defend themselves if attacked, the official said.
The U.S. will be evaluating over the next several weeks whether addition military action will provide enough of a window for formation of a more inclusive Iraqi government, the official said, adding that the U.S. won't put forward a preferred candidate to lead.
The special operations forces may make the Iraqi army more effective, said Colin Kahl, a professor at Georgetown University in Washington who oversaw Middle East affairs at the Pentagon during Obama's first term.
"The concept seems to be to deploy them as part of intelligence fusion cells to help Iraqis integrate their on-the-ground information with U.S. technical means, including video from surveillance drones, to more accurately and efficiently target ISIS," Kahl said in an e-mailed statement. "This is not a direct combat role, but could still make a meaningful difference on the battlefield."
Congress Briefed
Obama briefed congressional leaders from both parties yesterday, telling them he won't need approval from Congress for the options he was considering, the lawmakers who attended said afterward.
Reaction in Congress after Obama's remarks today largely fell along party lines.
"The steps he announced are needed, but fall short of what is required to stop this al-Qaeda offshoot from gaining more power, which must include drone strikes," Republican Representative Ed Royce of California, the chairman of the House Foreign Affairs Committee, said in an e-mailed statement.
Representative Eliot Engel of New York, the committee's top Democrat, said he backed Obama's "decision to assist the Iraqi Security Forces" as well as his emphasis that "this crisis must ultimately be solved the Iraqi people."
Before it's here, it's on the Bloomberg Terminal.
LEARN MORE